IP address from DHS edited Wikipedia to allege that Rep. Kevin McCarthy is having an affair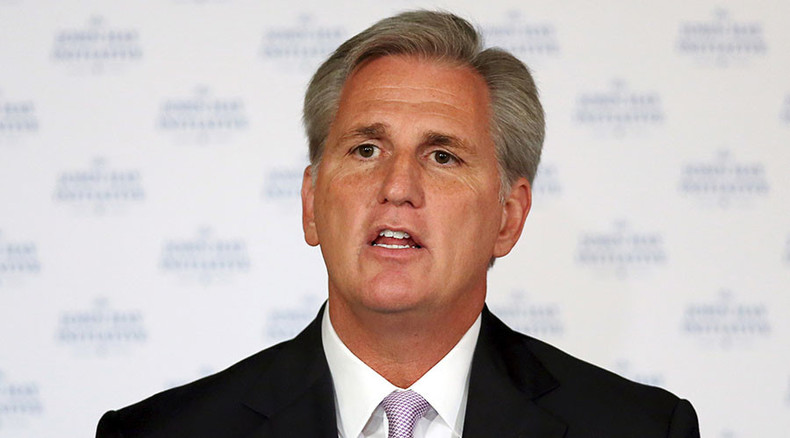 Republican Representatives Kevin McCarthy and Renee Ellmers have been a having an affair, if you believe the Wikipedia pages on them. The detail has been added by an IP address originating from the Department of Homeland Security offices.
"Ellmers is alleged to have been involved in an extra-marital affair with Republican House Majority Leader Kevin McCarthy since 2011," the edit reads, citing articles from conservative news websites Breitbart and GotNews.
The change alleging the infidelity was removed, and even the archive page showing the differences between edits was subsequently deleted by a Wikipedia administrator.
It's not clear who was behind the edits, only that someone at the DHS's Springfield, Virginia offices was using the agency's network to make them.
This comes as Rep. Kevin McCarthy (R-California) abruptly dropped out of the race to become the next Speaker of the House, a race that he was expected to win, leaving many puzzled. Intense speculation resulted from the closed-door nature of the dropout announcement, with many entertaining allegations of an affair between him and Rep. Renee Ellmers (R-North Carolina).
The Breitbart article that the Wikipedia editor linked to made no references at all to the alleged affair, but GotNews clearly pointed fingers, calling it an "open secret."
"The affair is something of an open secret in Washington, D.C. Reporters at other publications, lobbyists, congressional staffers of both parties all know about it," Charles C. Johnson, editor-in-chief of GotNews, wrote. "One staffer for a congressman describes it as the 'biggest open secret' in DC. A lobbyist describes Ellmers as a 'social climber who has ingratiated herself' with McCarthy."
This fiasco is not the first time that a government organization's IP address has been linked to such changes. The DHS itself has had its IP address tied to numerous edits on other Wikipedia articles, such as the US Customs Border and Protection, as well as for random movies like Hellraiser II and The Bonfire of the Vanities. The IP address has since been blocked from making changes to pages for "inappropriate edits."
Wikipedia edits coming out of the offices of members of Congress are common enough that the website itself has an entire article devoting to the phenomena, titled "U.S. Congressional staff edits to Wikipedia."
In January 2006, then-Senator Norm Coleman's chief of staff confirmed that staff had made edits to the senator's article to "correct inaccuracies and delete information." Wikipedia co-founder and figurehead Jimmy Wales said that the edits were "a major rewrite of the article to make it more favorable."
Then-Senator Joe Biden's page was discovered to have been edited by staff during a Wikipedia investigation in February 2006. Staffers had removed references to an instance of alleged plagiarism, and attempted to recast the article in a more favorable light for a possible 2008 Biden presidential bid.
On August 2, 2013, a user with an IP address from the US Senate edited Edward Snowden's Wikipedia article, changing his description from "dissident" to "traitor." Three days later, an editor with an IP from the US House of Representatives changed the page for UN High Commissioner of Human Rights Navi Pillay to describe Snowden as an "American traitor."
A spokeswoman for DHS says that the agency is looking into the edits that allege an affair between McCarthy and Ellmers.
"DHS has immediately launched an investigation into this serious matter," Marsha Catron told The Daily Caller. "If it is discovered that a DHS employee, using Government property, is responsible for these alleged actions, immediate and appropriate disciplinary action will be taken."
McCarthy's explanation for stepping away from the race is that it was solely the result of him and his colleagues agreeing that he wasn't the right man for the job.
Earlier this week, Rep. Walter Jones (R-North Carolina) wrote a letter urging GOP candidates to withdraw from leadership races if they have "any misdeeds" that they are hiding, which seemed to imply that he knew something about McCarthy.
When pressed to explain the context of the letter on Fox News on Tuesday, Jones said that he was merely warning against anything that could hurt Republican leadership.

"This was written primarily because I've been here 20 years, and I remember the night that Newt stepped down, the next night Bob Livingston stepped down, and the chaos it put the Republican Party in," Jones said. "I've seen several things since that did not deal with Mr. McCarthy, but just dealt with other people in the Republican Party."