'Dehydrated & scared': Illegal migrants rescued from sweltering truck in Texas (VIDEO)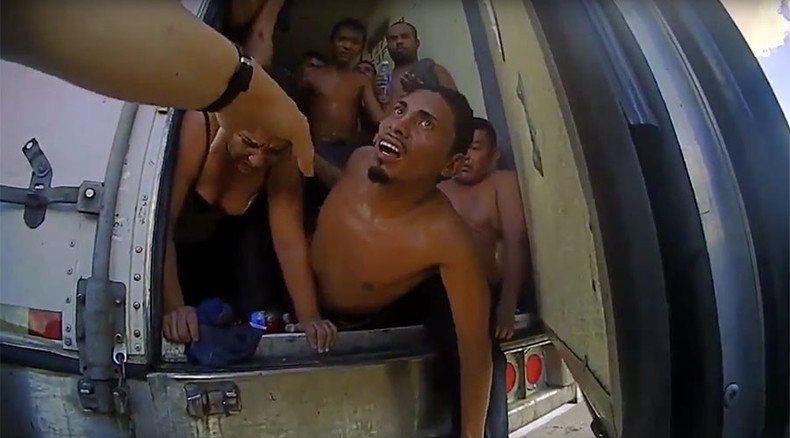 No fresh air inside, a truck full of half-naked bodies and a sweltering atmosphere: a police body camera captures the moment Texas officers found dozens of illegal migrants, including women and children, inside a tractor trailer.
The incident took place in Frio County, Texas on September 18, but the video has only just been released.
When County sheriff deputies and US Border Patrol agents arrived at the scene they said they found 28 men, seven females and four minors from Guatemala, El Salvador and Mexico.
"I could only see arms sticking out of it," Deputy Aaron Ramirez who was one of the first to arrive at the site, told local media.
READ MORE:Refrigerated truck containing refugees stopped in Austria, this time 42 rescued
Ramirez added the migrants "were sweating, dehydrated, it was horrible… They were scared. They thought they were going to die."
"Very heartbreaking. The youngest that was in there was a 13-year-old little boy. As soon as he jumped out of the trailer he said, 'Thank you so much. Thank you for saving us."
The driver, Drew Christopher Potter, 33 was caught on the scene and is now suspected of people's smuggling. If convicted, he faces a maximum $250,000 fine.
You can share this story on social media: