Refrigerated truck containing refugees stopped in Austria, this time 42 rescued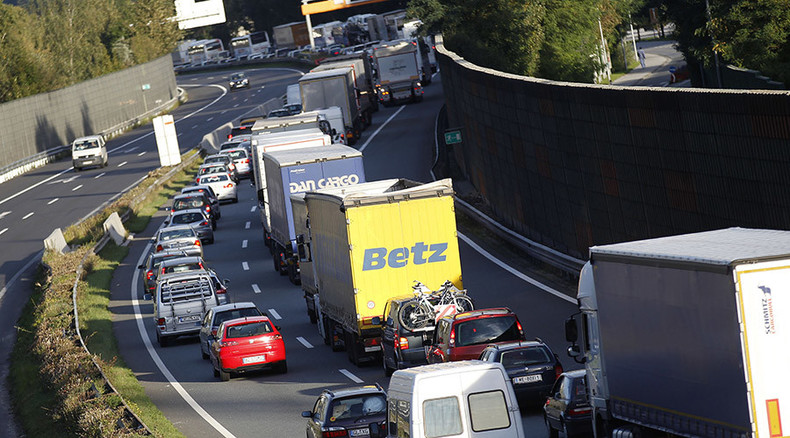 Police from Austria's Upper province say it has rescued 42 asylum seekers from a refrigerated truck near the border with Germany. Austrian authorities expect about 10,000 refugees to arrive from Hungary by the end of the day.
READ MORE: Watery deathtrap: Mediterranean migration routes to EU killing 10s of 1,000s over decades
Five women and eight children were among the 42 refugees rescued from the Finnish-registered refrigerated truck used for transporting flowers, DPA news agency reported, citing police. The incident took place on the A8 highway at Aistersheim, about 30 kilometers from the German border.
Police report that none of the refugees had health problems or were in need of medical care. The smugglers, who turned out to be Iraqis, were arrested.
On August 27, Austrian police found 71 dead refugees in a tractor trailer in eastern Austria who had died from asphyxiation. Eight women and four children, including a girl aged one or two, died in that incident.
Police say that Austria expects about 10,000 refugees to cross the border between Hungary and Austria on Sunday.
"The flow of refugees remains very high," the police spokesman said. "I don't think I would be wrong in saying that we might exceed the threshold of 10,000 if it continues like this."
On Saturday, about 8,000 refugees arrived in Austria and continued on to Germany, while 2,800 others decided to stay in Austria for the night.
This huge influx of refugees may have been caused by an announcement by the Hungarian authorities stating that they will regard illegal border crossings and damaging the border fence a criminal offence as of September 15.
Europe is facing its worst refugee crisis since the end of the World War II. Thousands of asylum seekers arrive in Europe every day fleeing primarily war-torn countries such as Syria, Afghanistan and Iraq. A number of those migrants die trying to reach Europe almost every day.
On Sunday, 28 refugees drowned in a shipwreck near the Greek island of Farmakonisi. It is thought to be the deadliest migrant tragedy in Greek waters.
"A wooden vessel carrying them overturned about three miles east of Farmakonisi early Sunday," a coastguard spokeswoman said, as cited by Reuters.
Another migrant was found dead in the landing gear of an Emirates cargo plane which had arrived from Nairobi, Kenya. The body was discovered after the plane landed at Schiphol Airport in Amsterdam on Sunday.
About 400,000 refugees have already arrived in Europe by crossing the Mediterranean Sea this year. About 3,000 of them have died, according to the UN Refugee Agency.
On September 14, foreign ministers from EU countries will hold a meeting to discuss introducing compulsory quotas requiring EU states to accept a stipulated number of migrants. The Visegrád Group (Czech Republic, Hungary, Poland and Slovakia) strongly opposes the idea. The Slovakian foreign minister has said he would veto any decision imposing compulsory quotas.