Watery deathtrap: Mediterranean migration routes to EU killing 10s of 1,000s over decades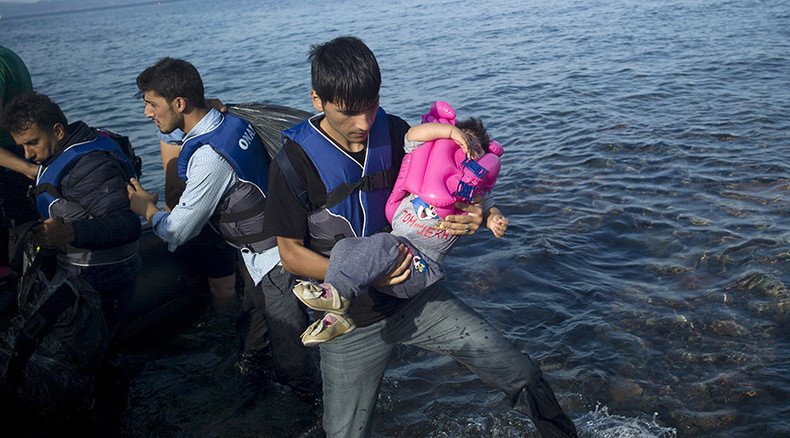 Although the world has been shocked by images of drowned refugee children washed ashore, international organizations and journalists have long been raising the alarm, warning that the Mediterranean has become a mass graveyard on Europe's doorstep.
Tens of thousands of people have drowned in the Mediterranean over the past decades while fleeing to Europe in hopes of finding a better life away from their war-torn and poverty-stricken homelands in the Middle East and Africa. The number of deaths has considerably increased recently, as migrants resort to the more dangerous sea routes to reach Europe, various reports show. According to one recent EU estimate, four out of five illegal immigrants may have arrived on the continent by sea.

READ MORE: West turning Mediterranean into mass grave
So far this year, over 330,000 migrants have crossed the Mediterranean Sea to reach Europe, the latest figures released by the International Organization for Migration (IMO) suggest. According to the intergovernmental agency, that number includes nearly 220,000 people who have landed in Greece, over 110,000 reaching Italian shores, and some 2,000 arriving in Spain. The total does not include the many that have arrived undetected. At least 2,636 people have died in the attempt, IMO said.

The UN refugee agency, UNHCR, released the same statistics in late August, saying the numbers represent a large increase from last year, when some 220,000 people crossed the Mediterranean during the whole of 2014, itself a record year. Some 3,500 people died or were reported missing in the Mediterranean Sea in 2014.
In a 2014 publication titled "Fatal Journeys: Tracking Lives Lost during Migration," IMO revealed data suggesting that around 14,600 people died "during the attempt to cross a southern EU external border" from 1993 to November 2012. The figure, believed to be the most comprehensive by IMO, is based on a Europe-wide list of fatalities compiled by UNITED for Intercultural Action, an international non-governmental organization based in Amsterdam. That data, in turn, is mostly the result of media reports and a monitoring mechanism by a network of civil society actors.

These 14,600 do not include migrants who die in detention centers, as homeless people, or "as the victims of racist attacks in Europe," IMO said, adding that "existing data suggests that migrant deaths occur overwhelmingly during clandestine sea voyages."
There are several routes for irregular migration across the Mediterranean area to the EU, including the Eastern Mediterranean route from Turkey to Greece, the Central Mediterranean route from Tunisia and Libya to Italy and Malta, as well as sea routes from Morocco to mainland Spain, and from the West African coast to the Canary Islands.

"Migrants who travel clandestinely by sea, in particular the Central Mediterranean route, are often fleeing conflict zones such as Afghanistan, Eritrea, Somalia and the Syrian Arab Republic," the IMO publication said.
According to another recent study by a consortium of European journalists, there has been a shift from land to sea migration over the past couple of years, with an increasing number of migrants choosing the more dangerous sea routes.

Often having no other option than small rubber dinghies, such voyages often end in graphic images of whole families being washed ashore – but stories like the one of the drowned Syrian toddler are rarely publicly shared, and the extent of migrant mortality in the Mediterranean may not be readily obvious to the general public.
Citing bad weather, rough seas, and poor visibility among the general risks involved in sea journeys across the Mediterranean, "the dangers associated with such conditions are heightened for irregular migrants," IMO said. Migrant vessels are at higher risk of running out of food and drinking water because "every space on a boat... reserved for additional paying passengers rather than food, water or fuel." The boats are also often operated by inexperienced captains, and the quality of the vessels themselves is "substandard... which means that leaks and motor failure occur frequently."

READ MORE: 'Lucrative' business of people smuggling thriving amid Europe's refugee crisis – report

"As a result of disputes between state authorities over the location of rescue and disembarkation responsibilities, migrants also run the risk of not being rescued. Distress calls have been known to go unanswered or ignored," the IMO report said.

UNHCR has recently reported that, due to the efforts of a joint European search and rescue operation under Frontex (an EU agency that manages coordination between national border guards), "tens of thousands of lives" have been saved this year. In 2014, 90,000 people were rescued at sea by Navy, Coast Guard, and commercial ships, according to Frontex. Yet, the Mediterranean Sea continues to be the "deadliest route for refugees and migrants," UNHCR spokesperson Melissa Fleming said in August.
A joint search, rescue, and medical aid operation has been launched in the central Mediterranean area between Africa and Europe by Medecins Sans Frontieres (Doctors Without Borders) and the Migrant Offshore Aid Station (MOAS) this year. The lifesaving operation began in May and will run to October.

READ MORE: 'Show some humanity!' Amnesty attacks govt over migrant crisis response

"We cannot put an end to the wars and misery which force people to leave their home countries, but we do have a chance to reduce the number of deaths and provide critical assistance to the thousands of human beings who will cross the Mediterranean," Arjan Hehenkamp of Medecins Sans Frontieres said.
Meanwhile, the lives lost while attempting to navigate the dangerous sea route to a luring Europe leave many western officials "horrified and heartbroken." Following the latest deaths in Austria and at sea, UN Secretary-General Ban Ki-moon issued a rare statement under his own name, rather than through a spokesman, calling on governments to act with compassion and humanity towards people undertaking such dangerous journeys in hopes for a better life.
You can share this story on social media: