DC water treatment plant goes green thanks to brown (poop)
Published time: 9 Oct, 2015 02:47
Have you ever thought that poop could be put to good use? Well, urine luck! DC Water's Blue Plains sewage treatment facility doesn't want waste going to waste in the nation's capital, and is reusing human refuse to generate power… and flowers.
DC Water, which processes water for the District of Columbia and some of its Maryland and Northern Virginia suburbs, unveiled its $470 million waste-to-energy project on Wednesday.
"We're going to generate… a permanent, clean energy that reduces our carbon footprint by a third," exclaimed DC Water General Manager George Hawkins at the official unveiling, according to WJLA.
The facility, which will use a Norwegian thermal hydrolysis system to convert the sludge left over from treated sewage to power itself, is the first of its kind in North America and the largest in the world, company officials said.
"[Europeans] have been doing it for 15 or 25 years over there. This is the first [thermal hydrolysis system] in North America though and the largest in the world," DC Water Director of Resource Recovery Chris Peot said.
Mayor Muriel Bowser attended the "grand opening" ceremony of the project, which broke ground in May 2011 under her predecessor.
"We can't afford to have waste be just waste," Bowser said. "Every dollar spent to convert that waste into energy will help us to reach our goals."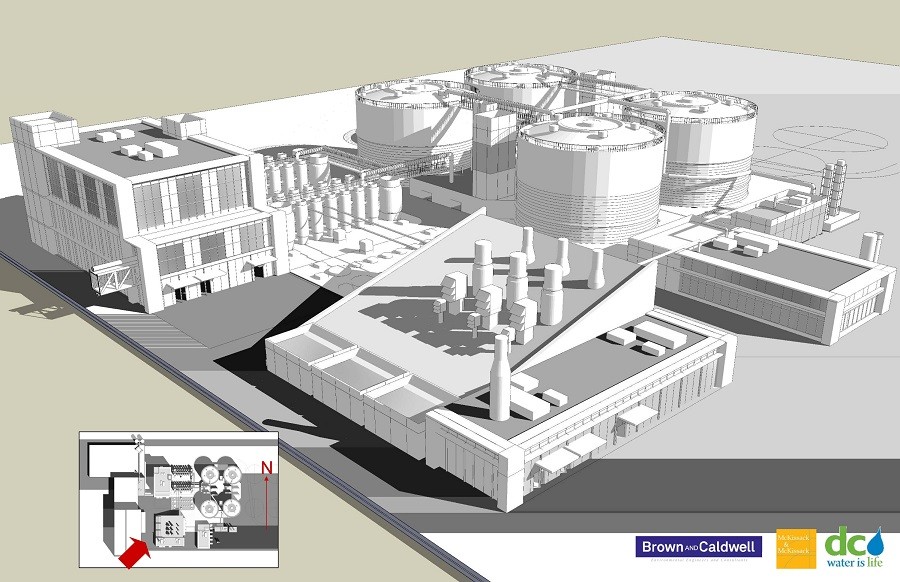 Here's the scoop about how DC will recycle poop: When it's brown and you flush it down, it heads to the Blue Plains plant along the banks of the Anacostia River. There, the brown, murky water is filtered through screens before heading into giant centrifuges that spin the remaining water off and concentrate the leftover solids.
"Don't think too long about that part," the Washington Post recommends.
From there, that solid sludge heads into large, steel Cambi reactors, which are named after their Norwegian manufacturer. These giant pressure-cooker-like reactors heat up the concentrated waste with 338-degree steam and pressure. Then it heads to into a different tank, with much lower pressure, which causes a bit of a shock to the system of unhealthful pathogens and other microbes: their cell walls explode.
"We're not just burning up the bacteria," Hawkins explained. "We destroy it."
The bacteria-busted sludge then goes into one of four eight-story-tall concrete cylinder tanks called "anaerobic digesters." Inside, microbial bugs spend three weeks eating 3.8 million gallons of what humans previously ate ‒ and expelled ‒ turning organic matter into methane gas. That methane gas is then cleaned and sent to a nearby building, where it is burned to produce energy for the plant. The four digesters hold a combined 15.2 million gallons of sludge ‒ enough to fill 23 Olympic-sized swimming pools, the company said.
DC Water says about 65 percent of the waste becomes methane, generating 10 to 13 megawatts, which is approximately a third of Blue Plains' power supply, or enough electricity to light about 10,500 homes. By fueling itself partially on feces, DC Water expects to shave $10 million a year off its power bill. On top of that, the water plant expects to save an additional $2 million or so annually on treatment chemicals and $11 million annually in trucking expenses.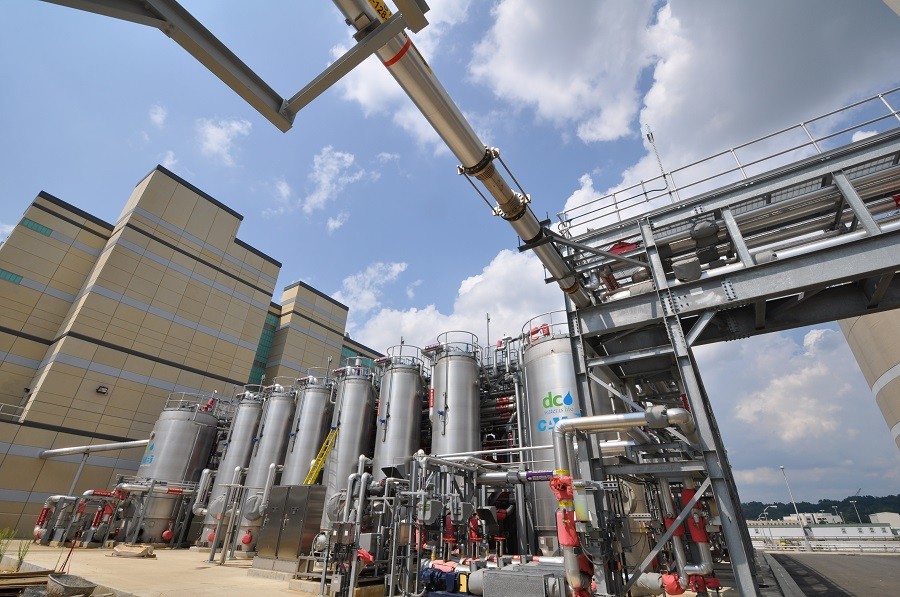 The Blue Plains plant previously produced 1,200 tons of "Class B" biosolids daily, a wet, stinky, mud-like material that was sent 75 miles away to farms in Virginia via 60 tanker trucks each day, the Washington Post reported. However, the digesters are turning that sludge into about half as much "Class A" biosolids, which smell like damp mulch.
And mulch it will be, in fact. The compost-like substance could show up in the next year or so on the shelves of Home Depot as a soil nutrient for home gardens, officials said.
"This is on the cusp of science, my friends," Delegate Eleanor Holmes Norton (D-DC) told the crowd of about 100 local officials and utility workers at the unveiling on Wednesday, according to the Washington Post. "This is the kind of magic that results when science is put to its 21st-century use."
Hawkins thanked those local leaders ‒ and DC Water customers ‒ for making the project possible.
"One could say it's a project generated by you, too," Hawkins said, as the crowd chuckled. "I'll let you think about that one a minute."