NYPD 'executed and covered up' killing of depressed immigrant – family attorney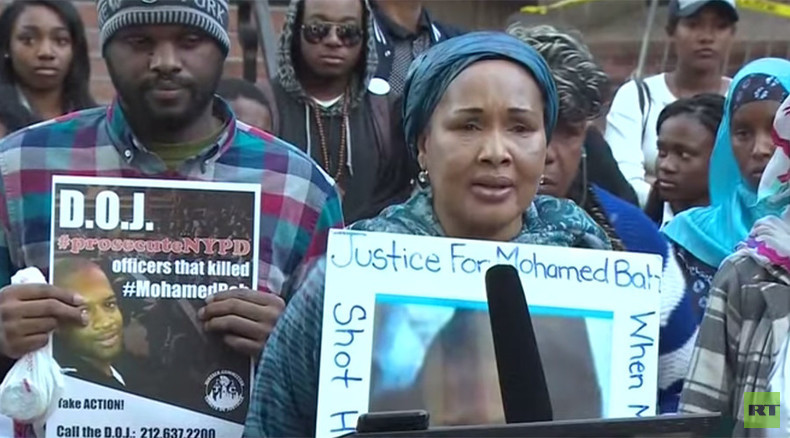 The New York Police Department engaged in "an execution" of Mohamed Bah, a mentally disturbed immigrant, and then a "cover-up" of his shooting death, a lawyer for the man's family said, arguing that federal charges are necessary in light of new evidence.
The incident occurred three years ago when police responded to a 911 call made by Bah's mother, who was concerned about his mental state.
The NYPD "did everything wrong in responding to that call for help," Debra Cohen, one of the lawyers representing the Bah family, told RT at a Tuesday evening rally outside the office of the Manhattan US Attorney.
Police called to Bah's aid ended up "forcing open the door, attempting to Taser him shooting him with an R1 shotgun, and then shooting at him 10 times, with eight bullets striking him – and the final, fatal bullet striking him in the side of the head, having been shot at close range, while he was still alive," she said.
"If nothing else, the people in … the Department of Justice cannot ignore the fact that a young man is dead because a New York City police officer shot him in the head at close range for no reason."
New evidence uncovered by the family's lawyers has prompted them to press the Justice Department to bring federal civil rights charges against the officers.
Cohen said the new evidence came from sworn depositions of over 16 members of the NYPD and thousands of pages of documents, autopsy reports and photographs. She said that what the NYPD said about Bah's death was "pure and simple lies."
On September 25, 2012, Hawa Bah called 911 to request an ambulance for her son, Mohamed, 28, who had shown signs of depression in the preceding weeks. His mother was so alarmed that she had traveled from her home in Guinea to care for him. Instead of an ambulance, NYPD emergency services unit officers arrived and, despite Hawa's protests, forced their way into her son's apartment with guns drawn and shot him until he was dead.
The NYPD claimed Mohamed Bah had a knife and had lunged at the officers, but no knife was ever produced. A year later, a Manhattan grand jury failed to indict any of the officers responsible and the case has stalled in the Department of Justice.
"I [will] fight for justice the rest of my life … because of the broken heart I have. I don't want even my enemy to have the same thing," Hawa Bah told RT at the protest. "I wish every person to not have the same problem I have and I wish justice for Mohamed Bah for the other future generations that come to New York to seek out freedom, not discrimination of races."
Cohen said additional evidence has shown that officers fired a stun gun to subdue Bah, but it missed and hit another officer, causing the stricken officer to fall over and knock another down. The Tasered officer possibly mistook the sensation for being knifed and screamed out, "I'm being stabbed! Shoot him!"
Three officers then fired 10 shots, striking Bah eight times. He took three bullets in his stomach and lower chest and three in his upper left arm and shoulder. The eighth and final shot, which hit Bah in the side of the head, was fired from close range in a downward trajectory, the autopsy showed, even though Bah was over six feet tall.
This evidence, combined with the officers' testimonies, means "the only logical explanation is that a police officer straddled Mr. Bah while he was still alive and breathing on the ground, bent over and shot him in the head to finish the job – while he was a threat to no one, while he had committed no crime," Cohen told the Huffington Post
"After over a year and a half of investigating what happened the night Mohamed Bah was killed, I'm here to tell you we can only conclude two things: an execution and a cover-up," Cohen told the Post.
The lawyers carried out their investigation as part of a $70 million lawsuit Bah's family filed against the city in 2013, which also seeks to change the way police handle people dealing with mental illness.
The city's legal department did not immediately respond to a request for comment. Both the Department of Justice and the NYPD declined to comment, citing pending litigation.
You can share this story on social media: