Carly Fiorina may have disclosed classified info when revealing she aided NSA as HP chief – report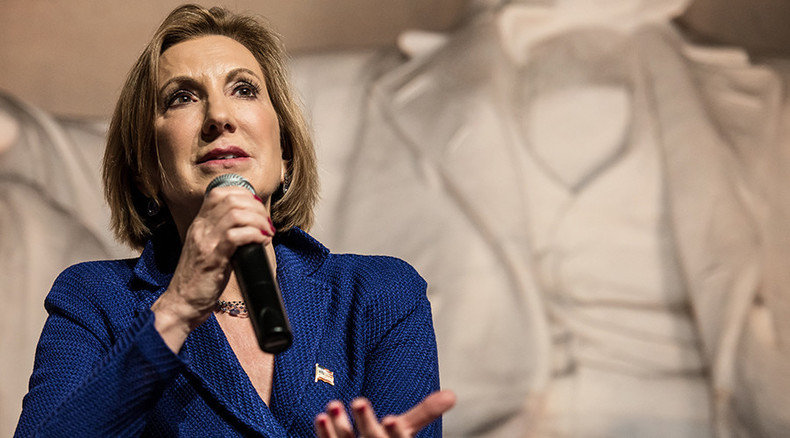 Republican presidential candidate and former Hewlett-Packard CEO Carly Fiorina may have revealed classified information when she crowed about delivering truckloads of computer servers to the National Security Agency, according to a new report.
Fiorina's cooperation with the NSA first came to light during an interview with Yahoo News that was published on September 28, in which she stated that truckloads of computer servers from HP were redirected to NSA headquarters in Fort Meade, Maryland in the wake of 9/11. The servers were used as the NSA put together its "Stellar Wind" program, which involved tapping electronic communications and phone calls without a warrant.
READ MORE: Targeted strike: Drone drops anti-spying leaflets over NSA complex in Germany (VIDEO)
"Carly, I need stuff and I need it now," former NSA Director Michael Hayden said he told Fiorina, who was HP's CEO at the time, according to Yahoo. Fiorina confirmed that she had been happy to oblige.
"I felt it was my duty to help, and so we did," she said. "They were ramping up a whole set of programs and needed a lot of data crunching capability to try and monitor a whole set of threats. …What I knew at the time was our nation had been attacked."
While the statement was meant to show off Fiorina's tough national security stance, Vice's Motherboard is reporting that the GOP candidate may have actually revealed information considered classified.
Like many things now known about the NSA, information about cooperation between the intelligence community and large corporations comes from documents leaked by whistleblower Edward Snowden in 2013. First picked up and tagged on Twitter by researcher Paul Deitrich, one such document states that 50 "computer servers to store and process data acquired under the new authority were ordered" may refer to the event described by Fiorina.
"Because of the heightened terrorist threat, at NSA's request, a vendor diverted a shipment of servers intended for other recipients to NSA," a footnote on the bottom of the same page adds.
The document does not explicitly identify HP as the source of the computer servers, but since other parts of the document that could potentially describe the acquisition or need for the servers are redacted, it could mean the specifics were classified, Motherboard stated.
Of course, HP isn't the only company to work with the government on its spying programs. The Snowden leaks revealed that Microsoft helped the NSA bypass its own encryption in products such as Outlook and SkyDrive. Meanwhile, Verizon and AT&T also helped the NSA collect data on Americans' phone calls.
READ MORE: Snowden willing to serve prison time for US return
The server incident wouldn't be the first time Fiorina worked with Hayden. After she had resigned as CEO of HP and Hayden was appointed to lead the CIA, Hayden created an "External Advisory Board" and appointed Fiorina as the chair, according to a May 2015 National Review report.
Fiorina has downplayed the significance of the NSA's surveillance efforts. While speaking with Yahoo, she said that Americans face bigger privacy threats from the government than surveillance. However, she did say she supports the "checks and balances" that Congress has implemented, though she did not elaborate.
You can share this story on social media: