Targeted strike: Drone drops anti-spying leaflets over NSA complex in Germany (VIDEO)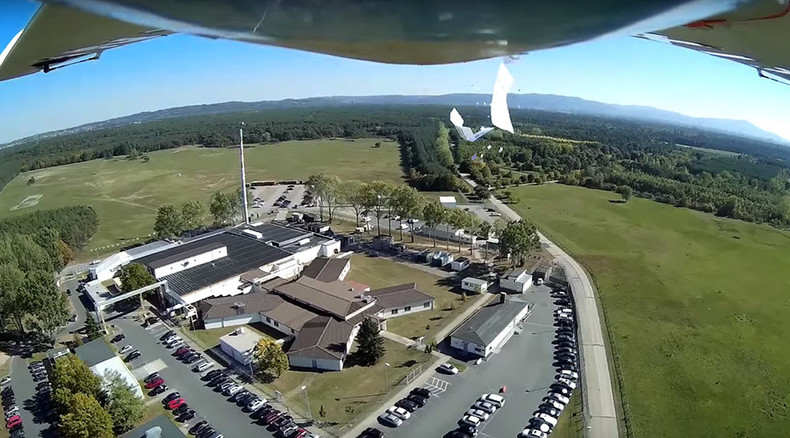 Adopting a propaganda technique from the WWII, German activists used a drone to drop anti-spying leaflets over the National Security Agency complex in Germany, hoping they would encourage intelligence workers to quit in protest over mass surveillance.
The leaflet drop, which occurred on Friday, was the latest inspiration of Intelexit, an activist group based in Berlin trying to raise awareness among intelligence employees of the US' NSA and GCHQ, the British spy agency. The group aims to persuade people involved in mass surveillance to quit by making them reconsider the morality of their spy work.
Intelexit's newest campaign was captured on video. Opening with stirring, uplifting music, a man in a business suit with his face hidden by a large drone branded "Intelexit" is seen. The drone is then loaded and flown on its "airborne leaflet operation" to Dagger Complex, a US military installation south of Frankfurt, where the leaflets are released to flutter down onto the complex.
The Dagger Complex is a hub for the NSA's surveillance and espionage activity in Europe, employing 1,100 people, according to the Intercept.
"We are inviting our many supporters to think of innovative ways to reach those who are in distress because of their role in supporting mass surveillance and drone warfare," Sascha Fugel, a spokesperson for the campaign, said in a press release.
The contents of the leaflets is not described, but a brochure accompanying Intelexit's press statement described the company as an exit program for those in the intelligence community who are looking for a way out. It says the group provides help with counseling to solve conflicts of conscience, evidence-based arguments to dispel myths about the benefits of surveillance, and help with resignation letters.
The organization also provides a large network of organizations and people that offer legal, psychological and advocacy support for the cause.
"Germany remains inactive and has to date taken no responsibility for the activities at the Dagger Complex," Fugel said in the statement. "We know that there are employees of the Dagger Complex who are experiencing great moral conflict because of their tacit involvement in spying."
Intelexit is supported by whistleblowers such as Thomas Drake, a former senior NSA official who was indicted under the US Espionage act for exposing government corruption and violations of the law. He is featured in one of the organization's videos.
In an earlier campaign, the group drove moving billboards past intelligence agencies in the US and abroad last month. They featured picturesque scenes of sunsets and American flags, with captions reading: "Complicit in mass surveillance and drone wars?" and "Listen to your heart, not to private phone calls." They directed observers to "exit intelligence."
In another of Intelexit's actions, freelance photographer Ben Grad accompanied a driver hired by Intelexit to drive around NSA headquarters in Fort Meade, Maryland. Grad told The Intercept that he and the driver had taken pictures on the NSA campus, but were told by security guards to delete them.
You can share this story on social media: