Bernanke calls for prosecutions of top financial execs over 2008 meltdown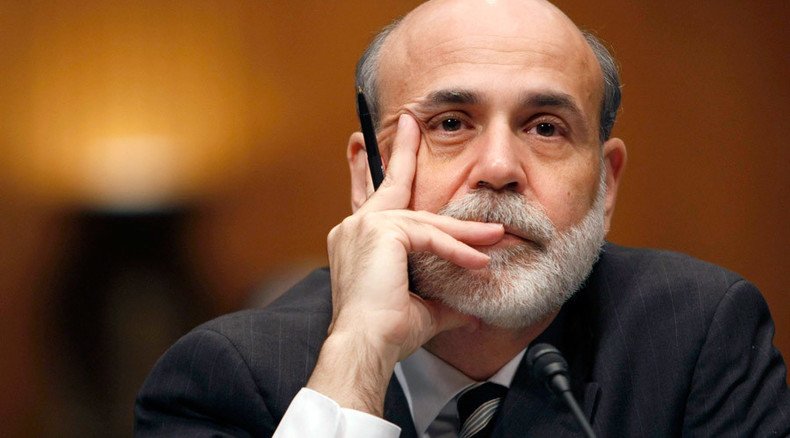 Former Federal Reserve Chairman Ben Bernanke, who led the US through the financial meltdown of 2008, said that top financial executives should have been prosecuted for their role in creating the worst economic crisis since the Great Depression.
Speaking to USA Today, Bernanke blamed the US Justice Department for going after the firms instead of focusing on the individuals who had been running huge American corporations.
"It would have been my preference to have more investigation of individual action, since obviously everything that went wrong or was illegal was done by some individual, not by an abstract firm," Bernanke said in the interview.
But the decision to prosecute individuals is not it the hands of the Federal Reserve which he chaired from 2006 to 2014, Bernanke said.
"The Department of Justice and others are responsible for that, and a lot of their efforts have been to indict or threaten to indict financial firms. Now a financial firm is of course a legal fiction; it's not a person. You can't put a financial firm in jail."
At the same time, the 71-year-old praised his institution for handling the financial meltdown saying they had done everything in order to avoid the repetition of the Great Depression of the 1930s.
"I think there was a reasonably good chance that, barring stabilization of the financial system, that we could have gone into a 1930s-style depression," he told USA TODAY. "The panic that hit us was enormous — I think the worst in US history."
READ MORE: Ben Bernanke gets $250k for his first post-Fed speech
The global financial meltdown started in July 2007 with a liquidity crisis, which resulted in the US Federal Bank injecting a large amount of capital into financial markets. By September 2008, the crisis had worsened, with stock markets around the globe crashing and trading becoming extremely volatile. In turn, consumer confidence hit rock bottom on account of fears of what could lie ahead.
The US housing market was impacted enormously as many home-owners found that they were unable to meet their mortgage repayments. Most borrowers found themselves with negative equity, as the value of their real estate plummeted. The banks who were dealing with the liquidity crisis practically stopped giving out home loans as the fallout from the sub-prime lending bubble burst.
The collapse of Lehman Brothers on September 14, 2008 marked the beginning of the global financial crisis. The US government proposed a $700 billion rescue plan. In January 2009 US President Obama proposed federal spending of around $1 trillion to tackle the financial crisis.
You can share this story on social media: