1812 war frigate becomes only US Navy ship to have sunk enemy vessel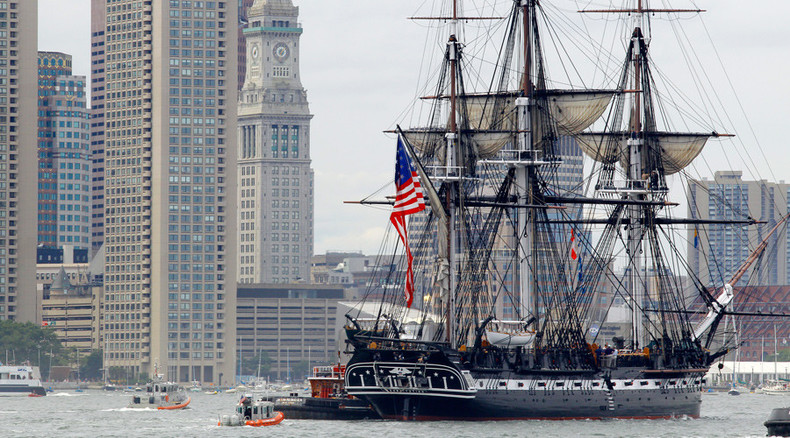 Now there's just one vessel that has sunk an enemy ship in battle left in the US Navy, after it retired the USS Simpson following three decades of service. The USS Сonstitution is the world's oldest commissioned warship. She took part in the 1812 war.
The USS Simpson had its weaponry removed and lowered its flag during a ceremony at Naval Station Mayport in Jacksonville, Florida on Tuesday.


The veteran ship will now be towed to the port of Philadelphia to wait until one of the US' foreign allies purchases it.

During its first overseas deployment in 1988, USS Simpson destroyed an Iranian oil platform in the Persian Gulf and sunk a missile patrol boat.
The Perry-class frigate was awarded the Joint Meritorious Unit Award, Combat Action Ribbon and Armed Forces Expeditionary Medal for taking part in what became America's only sea battle since the Word War II.

Other USS Simpson operations over the years involved searching for and escorting submarines, and raids against drugs traffickers and pirates.
The only remaining ship to have sunk an enemy vessel in the US Navy is wooden-hulled USS Constitution, which achieved the feat during the War of 1812 against the British.
READ MORE: Pentagon wasted over $700 million on ineffective minehunting system
The decommission of USS Simpson also marks the end of the era of frigates in the US Navy, because ships are less likely to engage into open sea battle in modern conditions.
The ship was named after World War II Rear Admiral, Rodger W. Simpson, whose wife sponsored the frigate's construction.
The USS Simpson had a crew of 220 sailors, with the majority of them getting news assignments in Jacksonville, the ship's commanding officer, Casey Roskelly, said.