Copycat risk? Schools in multiple states lock down in wake of UCC shooting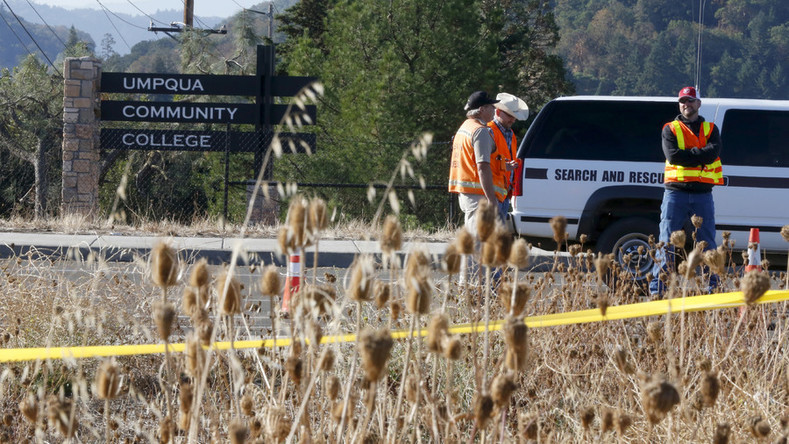 The tragic shooting at Umpqua Community College in Roseburg, Oregon, left 10 people dead including the gunman, and incited fear over the potential ripple effects across the US. Various schools locked down over reports of suspected shooters in the area.
In the wake of the UCC shooting, schools in at least three states, stretching from Virginia and Texas to Washington, were either placed in lockdown or warning students to stay away on Friday over reports of people with guns nearby.
At the Virginia Commonwealth University in Richmond, students were told to "avoid the area" since a "possible armed suspect" was reported on campus grounds.
According to a VCU campus alert, the suspect was a male armed with what appeared to be a rifle. He was said to be wearing a green shirt, jacket and square military style cap, with a black backpack.
After searching the area, however, police could not locate any suspicious individual and students were told to resume normal activity. Law enforcement continues to monitor the campus.
In Washington state, a 16-year-old Centralia High School teenager was arrested over violent comments he allegedly made on social media. A note was found in a classroom on Friday suggesting that a student was planning to kill others during a school assembly, Washington state local paper, The Chronicle, reported.
"Centralia High School is currently on lockdown due to a threat received," the school said on Facebook. "We are assessing the situation with law-enforcement. At this time students are still on campus and are safe."
The teenager questioned by authorities said he was only joking when he made the comments, but he was arrested and charged with felony harassment, according to MyNorthwest.com.
Additionally, police may charge two more teenagers.
Meanwhile, schools in two separate Texas districts were placed on lockdown Friday. In El Paso, Canutillo High School, Northwest Early College High School, and the El Paso Community College (EPCC)'s Northwest campus were all affected by reports of an individual armed with a gun in the area, according to the El Paso Times.
Ultimately, "no credible threat" was found by law enforcement.
"We have not found anyone with a gun," said EPCC police chief Jose Ramirez to the Times. "The perimeter is still in place and they are still sweeping the rooms."
In the Houston area, the Spring Branch school district temporarily placed on modified lockdown over a "non-specific threat" and an abundance of caution, local ABC 13 reported.
"Police were notified early Friday morning about a potential threat made against an unidentified Houston-area school," a statement from the district said. "[Houston school district] police and the Houston Police Department launched an investigation, but at this time have found no evidence to suggest the threat was credible or directed at HISD."
Thursday's UCC shooting has reignited the debate over gun control in the US. Over the summer, an Arizona State University study found that mass killings and school shootings inspire similar attacks over a two-week period after the initial event. It also found that these incidents occurred more often in states with higher gun ownership.
"While we can never determine which particular shootings were inspired by unconscious ideation, this analysis helps us understand aspects of the complex dynamics that can underlie these events," said lead author Sherry Towers, research professor in the Arizona State University Simon A. Levin Mathematical, Computational and Modeling Sciences Center, in ASU news.
President Barack Obama has one again called for stricter gun laws in the US, but conservatives in Congress and on the campaign trail have rebuffed his calls for action, arguing that more restrictions won't stop violent criminals.
Speaking with RT, one professor of adolescent pediatrics said that the media, including violent movies and video games, also shares some of the blame for the rising number of shootings.
"This is common sense. People learn from the media, and virtually every mass shooter has been involved with violent, particularly first-person shooter video games," Dr. Victor Strasburger of the University of New Mexico said. "But that's one factor – mental illness, social isolation, being bullied or abused as a child – these are all factors."
He said the amount of violence in movies and media continues to go up and that Americans are becoming desensitized.
"The most important factor here is we've all been desensitized by the violence we've seen in the media, so these school shootings just go on and on and we do absolutely nothing about them," he said. "We've all been desensitized."