Schools sack football teams due to deaths, injuries, lack of interest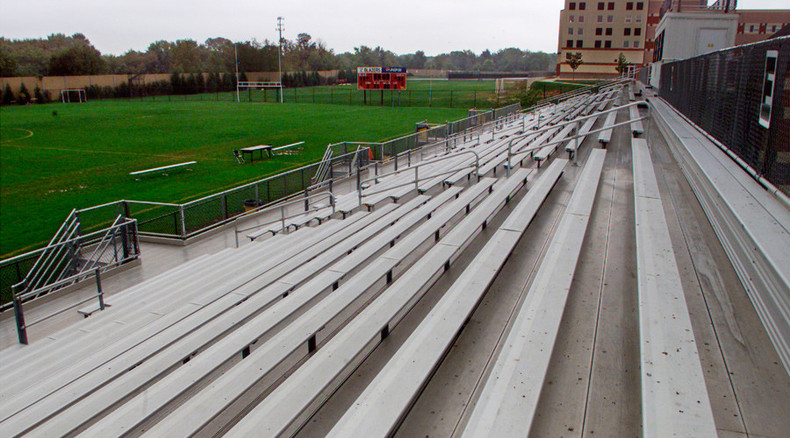 With three high school football players dying from in-game injuries so far this season, declining interest in the sport and a spate of other injuries, schools are beginning to take a hard look at cutting their football programs.
Star quarterback Evan Murray, a senior at Warren Hills Regional High School in New Jersey, died last Friday night. He took a big hit in the backfield during a game, collapsing on the field and dying soon after, Lehigh Valley Live reported. The county medical examiner determined that Murray had ruptured his abnormally large spleen.
Murray was the third high school player to die this month from the direct result of football injuries, according to the New York Times. Tyrell Cameron, a sophomore at Franklin Parish High School in Louisiana, died on September 5 after being hit during a punt return. Ben Hamm, a 16-year-old linebacker at Wesleyan Christian School in Oklahoma, died on September 19, eight days after he sustained a head injury during a game.
Last year, five football players died over the course of the season, according to the National Center for Catastrophic Sport Injury Research.
With increased attention on head injuries at the professional level ‒ a study of deceased pro former football players' brains published last October found that 96.2 percent of them suffered from chronic traumatic encephalopathy, or CTE, before their deaths ‒ interest in the sport is beginning to wane.
The number of male high school football players has fallen to about 1.08 million this year, a 2.4 percent decline from five years ago, according to the National Federation of State High School Associations. Pop Warner, the largest youth football organization, has seen even larger decreases in participants, the New York Times reported.
High schools, especially those with low enrollment numbers, are finding themselves between a rock and a hard place ‒ or, more aptly, between the ground and a defensive tackle ‒ when their players get injured and they either cannot field a team or feel their players' safety is at risk by pitting 14-year-olds with no experience against a team with much older, bigger players.
Several schools have responded by cutting their teams entirely. Last Thursday, Camden Hills Regional High School in Rockport, Maine canceled the remainder of its football season, joining Maplewood Richmond Heights High School in Maplewood, Missouri and Ridgefield Memorial High School in New Jersey in scrapping its team.
Camden started the season with 27 players, including 13 freshman and three girls who are either freshmen or sophomores. The team was 0-3, and four players were injured in its most recent game, leading the school to make the difficult decision to fold the team, Camden Hills Regional High School Principal Nick Ithomitis told WMTW.
"If we came here Monday morning and there's a bad injury, we're going to be looking at each other saying,'we didn't protect that kid'," he said.
He sent an email to the school community outlining the decision to forfeit the rest of the season, which effectively bans the school from fielding a team for an additional two years, according to Maine rules governing school sports.
"This was a difficult decision because so many people, especially the Five Town Football community, worked extremely hard to bring football to our school," Ithomitis wrote. "Unfortunately, dwindling numbers of players have created a serious safety issue, and we are simply not willing to put any more students at risk. "
Some players questioned the intent behind the decision.
"They said we had three girls and 13 freshman so we were a weak team," female player Kesha Lane told WMTW.
"It's not the fact that they're girls," Ithomitis said. "It's the fact that most of our kids are young, inexperienced football players. And they're competing against older, stronger, bigger kids to the point that their safety is at risk."
In Maplewood, a St. Louis suburb, the Friday night lights are now shining on a different sport.
"The boys I've seen, they're growing up with soccer," Betty Pearson, whose oldest son played football at Maplewood but whose youngest son plays soccer, told the New York Times. "I come out, and there are 10 kids kicking the ball around in the street. I don't think I've seen that with football."
Despite the lack of a football team, the school's annual football game will still be played. It will just be the other kind of football.