Virgin Galactic spectacularly tests main stage engine for LauncherOne spacecraft (VIDEO)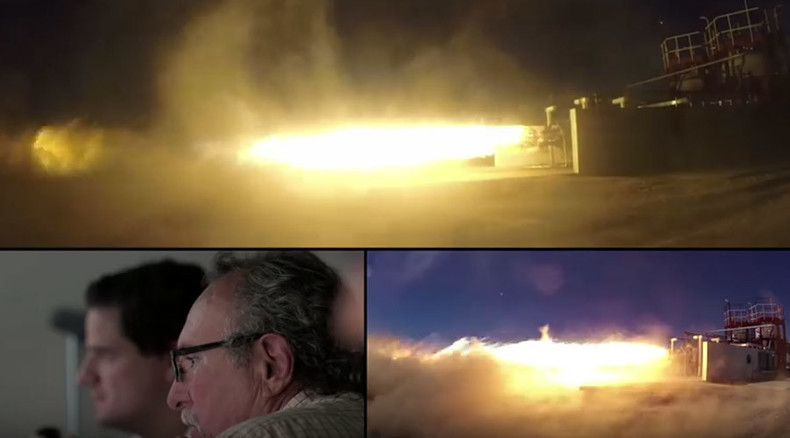 Virgin Galactic has successfully test-fired the Newton Three main stage engine for its small LauncherOne satellite launch vehicle. It is considered to be an important milestone on the way to space.
First established with the goal of sending tourists into space, Galactic recently announced that it's working to power up its rockets with the aim of enabling them to carry satellites into space.
Billionaire Richard Branson suffered a setback last year, after his SpaceShipTwo craft crashed, killing one of the pilots.
READ MORE: Faulty descent system may be behind Virgin Galactic SpaceShipTwo's fatal crash
But failures and funding problems have not deterred the adventurer. Two weeks ago the company announced it was increasing the new satellite launcher's performance, and have now publically said they have made "significant progress" on the engines.
Above is what the liquid rocket propulsion system that will power Virgin Galactic's small LauncherOne looks like.
READ MORE: Bezos vs. Musk? Amazon CEO plans to build, launch rockets off Florida coast
The NewtonThree main stage engine ran for a total of 20 seconds at custom-built test stands in Mojave, California, during which it experienced steady operation and allowed the team to run tests, before shutting down. The upper stage engine was tested earlier in the week.
Initially, the company planned to use LauncherOne to send payloads only slightly exceeding 200kgs. Now the company says that the improvements made to the launcher spacecraft enable it to carry up to 400kgs into low Earth orbit, and about 200kgs into sun-synchronous orbit, used by remote sensing satellites.