$60 per plant: DEA waging costly war to destroy marijuana in Oregon despite drug's legaliity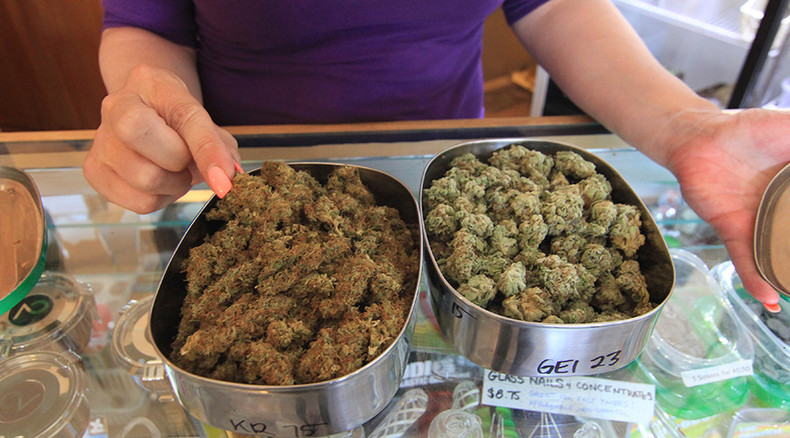 Recreational marijuana use is legal in Oregon, but that hasn't stopped the US Drug Enforcement Agency (DEA) from engaging in an eradication program costing American taxpayers hundreds of thousands of dollars per year.
In 2014 alone, the agency spent $960,000 to remove 16,067 pot plants in the state of Oregon, where the drug was made legal in 2012. If you do the division, the price tag comes to almost exactly $60 dollars per plant destroyed. The number appears even more startling when considering the average nationwide per-plant-destruction cost is $4.20, the Washington Post reported Thursday.
Much of this money goes towards funding helicopters that scout out marijuana farms from the sky, as well as having officers on foot uproot the plants that are spotted. Overtime pay alone cost taxpayers about $275,000 last year.
This apparent paradox between legality and crackdowns exists because, while marijuana is legal at the state level, it remains criminalized federally and the DEA is part of the federal government. The agency defends its activities on the grounds that much of the pot grown in Oregon is, they say, sold in parts of the country where pot is still illegal.
However, many Oregonians, as well as members of Congress, think this is a wasteful endeavor. A new bill being considered in the US House of Representatives seeks to defund the program, which costs American taxpayers $18 billion a year.
"I think the DEA's marijuana eradication program is a huge waste of federal taxpayer dollars," Representative Ted Lieu (D-California) told local NBC affiliate KGW.
"We have states like Oregon, Washington and Colorado that have legalized marijuana and then you've got the federal government trying to eradicate it," he continued. "That doesn't make any sense."
The marijuana eradication program saw 6,310 people arrested in 2014 and the seizure of more than $27 million, according to the DEA website.
Marijuana has been legalized in several states and the District of Columbia since Washington and Colorado blazed the trail in 2012, but the DEA's program has continued to operate on a nationwide basis. Many of the states legalizing marijuana, which can't prohibit the DEA's activities, resent the program.
"I want to focus on person crimes," an Oregon sheriff told NBC. "Child abuse, sex assault, crimes against people."