Hands off: School district faces backlash over tag-less recess policy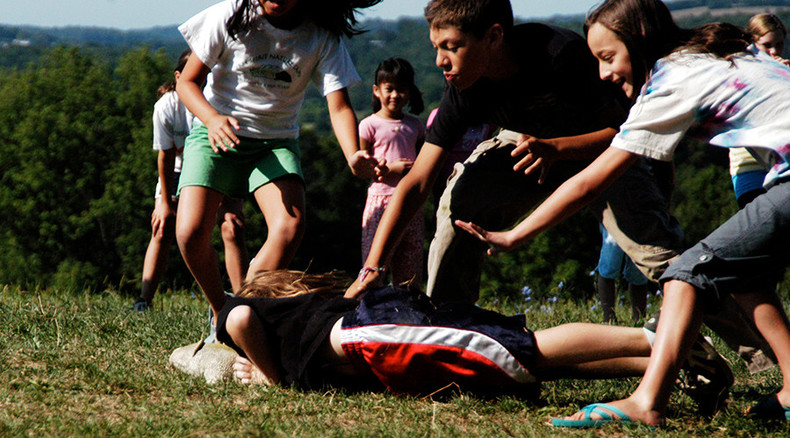 A school district in Washington is discouraging students from playing the game of tag at recess, hoping to protect kids' "physical and emotional safety" with the "hands-off" policy. Now parents are banding together to get the popular pastime unbanned.
The Mercer Island School District, located in an affluent suburb of Seattle, told students ‒ but not parents ‒ that tag was off-limits at the beginning of the school year. Moms and dads found out when the kids came home and told them, KCPQ reported.
It wasn't until Wednesday that the district reached out to families.
"The Mercer Island School District and school teams have recently revisited expectations for student behavior to address student safety. This means while at play, especially during recess and unstructured time, students are expected to keep their hands to themselves," communications director Mary Grady wrote in an email. "The rationale behind this is to ensure the physical and emotional safety of all students."
Teachers and administrators will be working with students in the classroom to suggest alternative games and activities that they can play during recess and other unstructured play times, she added.
But parents complain that their kids should be free to play as they wish.
"In this day and age of childhood obesity, there's a need for more activity," Melissa Neher, the mother of two Mercer Island students, told KCPQ. "Kids should be free to have spontaneous play on the playground at recess. It's important for their learning."
"Good grief, our kids need some unstructured playtime," another mom, Kelsey Joyce, told KCPQ. "I totally survived tag. I even survived red rover, believe it or not."
Now her son no longer spends recess playing and running around.
"He has been spending most of his recesses wandering around with his friend talking about video games, which is the last thing I want him to be doing," she said.
On Thursday, Superintendent Dr. Gary Plano issued a statement further explaining the school district's decision, stressing that the game was not actually banned.
"To help with perspective, last spring we had isolated incidents of unfortunate interactions that occurred on the playground where students were injured, and some stemmed from games involving student contact with each other," he wrote. "Sometimes games during supervised, unstructured play deteriorated into name-calling, fighting and injury."
The point of discouraging the game was to minimize negative physical interactions among students.
"We wanted the school year to begin with an explicit promotion about a more positive playground experience by asking students to keep their hands and feet to themselves at all times, including recess, unless of course directed by an adult to do so," Plano wrote. "We want to initiate a new form of tag-like running games to minimize the issues of 'you were tagged / no I wasn't' or 'the tag was too hard and felt more like a hit'. Tag is not banned."
One elementary school in the district has a sign encouraging students to join league sports teams.
KIRO Radio host Jason Rantz ranted about the school's decision to promote organized sports over independent games in an online post.
"The school promotes competitive sports like football, which is like tag only instead of gently tagging someone and saying 'you're it', students will viciously tackle their opponents," he wrote. "Further, the school also provides for wrestling; again, considerably more violent and dangerous than a game of tag."
"The only difference I can find behind this kind of hypocrisy is that they charge students $190 per sport in order to participate (this fee was recently raised $15 ‒ perhaps that will go to counseling for the players ‒ they likely will suffer emotional damage from all the rough play, right?)," he continued. "Or perhaps the school can't charge $190 for tag, so they'll ban it."
Over 400 parents have joined a closed Facebook group called STAR MI (short for Support 'Tag' At Recess in Mercer Island Schools), which calls for the district to bring the game back to the playgrounds.
"Our group believes 'tag' and other child led games encourage independence and much needed activity," the description read.
Nehrer, who created STAR MI, hopes that the district will reevaluate its policy with input from kids and parents, she told KCPQ.
At a school board meeting Thursday night, Plano commented on the backlash the district had received, according to the Mercer Island Reporter.
"It's regretful that what seemed to be a well-intentioned desire to help protect kids has taken a life of its own," he commented to the board.
Plano agreed to form a parent committee that will give feedback on recess and unstructured play.