Contraband from heaven? 3 men indicted for plan to smuggle drugs, porn into prison via drone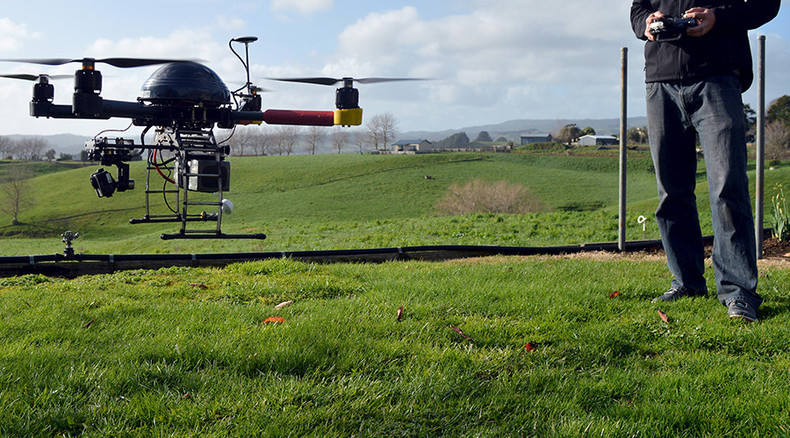 Three Maryland men, including one serving a life sentence as a convicted murderer, were allegedly looking to the skies when trying to sneak drugs and porn into a prison via drone. Sadly for them, the sky fell when police caught onto their plan.
Now, the three have been officially charged with crimes.
Inmate Charles Brooks, 43, was indicted on 33 misdemeanor accounts by an Allegany County grand jury, including possession with intent to deliver contraband, drug possession with intent to distribute, and possession and receiving a telecommunications device, according to a statement by the Maryland Department of Public Safety and Correctional Services.
Already serving a life sentence, Brooks now faces at least three years in prison for each count. He also faces a fine of up to $25,000 for each count.
The other two men – Thaddeus Shortz, 25, and Keith Brian Russell, 29 – were charged with 39 felony and misdemeanor counts, including possession and intent to deliver drugs and possession of a firearm in a drug trafficking crime. The seven felony counts against the men each carry sentences of up to 20 years behind bars. Each misdemeanor account also carries prison sentences of at least three years and fines of up to $25,000.
Both Shorz and Russell were former inmates of the prison, Reuters reported.
"This is the first case in Maryland where a drone is suspected in a contraband delivery plot," state Public Safety and Correctional Services Secretary Stephen Moyer told reporters, according to CNN.
The plan was allegedly set to take off on August 22, when Shortz and Russell were found by police apparently preparing a drone for a flight into the prison on a road near the Western Correctional Institution in Cumberland, Maryland. Officers found drugs, tobacco, synthetic marijuana, pornography and a handgun inside their car
Shortly after Shortz and Russell were arrested, authorities said contraband was discovered in Brooks' cell during a search. Police said Brooks had a phone, tobacco and porn in his possession, according to Reuters.
However, it's unclear how police ultimately linked Brooks to Shortz and Russell.
This may be the first suspected drone plot in Maryland, but unmanned aerial vehicles have already been used in other plots around the US. In August, a drone dropped a package of drugs and cell phones into a prison yard in Ohio, sparking a riot among the inmates who came across the package.
Inventive aerial prison smuggling is not restricted to the US, however.
In March, a plot to deliver drugs, phones and weapons into a UK prison failed when the drone being used to do so crashed into a wall.
Meanwhile, innovators in Russia recently delved into the past in their jail-smuggling efforts. A man and woman were detained while reportedly trying to deliver contraband and phones to inmates by shooting them onto prison grounds with a crossbow.