Laser-armed killer drones: Coming soon to a sky near you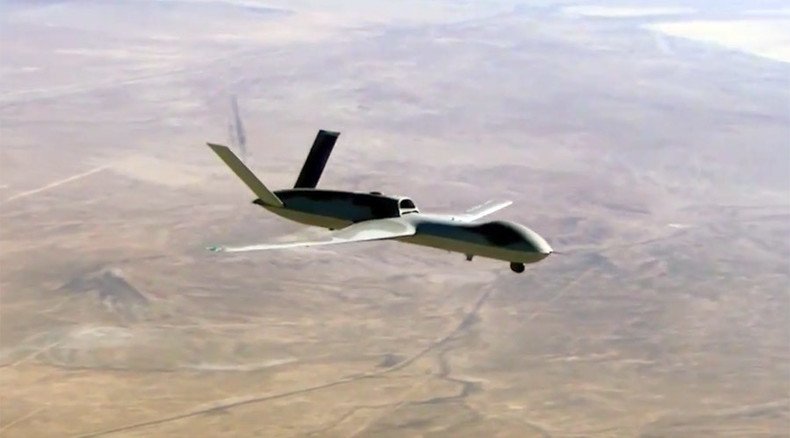 Drones armed with laser weapons could be just a couple years away, says a California company behind the Predator and Reaper attack UAVs. General Atomics hopes to test a solid-state laser mounted on an Avenger drone by 2017.
The San Diego-based General Atomics Aeronautical Systems Inc. (GA-ASI) has already delivered a 150-kilowatt high-energy liquid laser (HEL) to the Pentagon, for testing at the White Sands missile range in New Mexico. They are now studying a solid-state version of the weapon.
"We're funded right now to develop a laser module compatible with the aircraft and study putting it on the Avenger," Michael Perry, a vice president at GA-ASI, told Defense One.
Laser weapons are a good deal more complicated than Hellfire missiles, however, with dust, debris or clouds possibly interfering with the weapon. Current tests at White Sands aim to show that the GA-ASI laser can function under weather conditions faced by the drones.
"Before you spend any money on a laser, you better darn well show that you can acquire, ID, and track the objects of interest so that you could put a laser on them," said Perry. "You have to be able to compensate for aero-optic distortion."
The other challenge is powering the weapon. A 150-kilowatt laser is too heavy to mount on the existing MQ-1 Predators, and even the MQ-9 Reapers. Engineers are hoping the Predator-C 'Avenger', with a 3000-pound payload capacity, will be powerful enough to house the weapon.
The company has already designed a charging system for the laser, enabling the drone to get five or six shots off before needing to recharge from the drone's power systems. If there is enough time between the shots, Perry said, the recharging will be seamless.
One of the reasons General Atomics is ahead of competitors in the race to arm drones with lasers is that the company already builds the ground control stations for drone operations. The new version of the station is fully capable of supporting laser-armed drones, according to Perry.
If the company can successfully develop a drone-mounted laser, it would significantly expand the potential for use of remotely piloted vehicles.
"You would have a capability for close-air support, aircraft defense, counter-air, and even some types of non-lethal actions. You would really be expanding the mission space," Perry said.
The US Air Force is already looking to mount lasers onto its fighter jets.
"I believe we'll have a directed energy pod we can put on a fighter plane very soon," General Hawk Carlisle said at the Air Force Association's Air & Space conference earlier this week. "That day is a lot closer than I think a lot of people think it is."
You can share this story on social media: