Watch out Luke Skywalker! US Air Force to have combat lasers on planes by 2020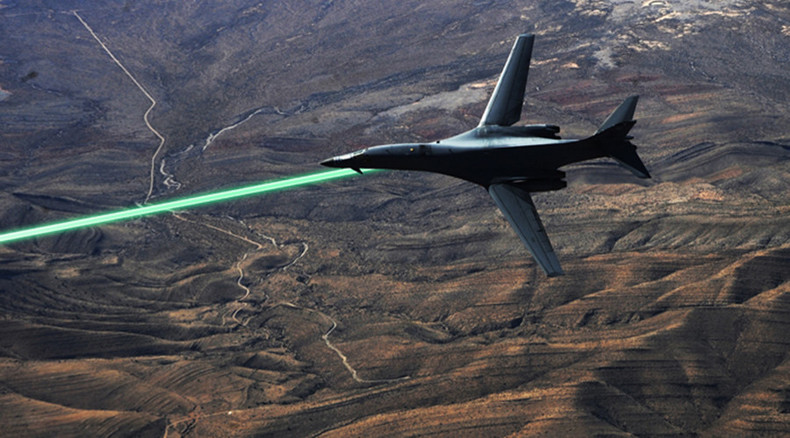 The US Air Force is bringing their arsenal into the future by employing combat lasers on its war planes. The service plans to have aircraft equipped with the High Energy Liquid Area Defense System (HELLADS) by 2020.
These armaments, called "directed-energy weapons pods," will be capable of destroying enemy missiles and unmanned aerial vehicles (UAV,) and even shooting combat aircraft right out of the sky.
"I believe we'll have a directed energy pod we can put on a fighter plane very soon," Air Force General Hawk Carlisle said at the Air Force Association Air & Space conference earlier this week. "That day is a lot closer than I think a lot of people think it is."
Mock-ups on the exposition floor featured low-power laser weapons that could be used to disrupt enemy sensors. One such system from General Atomics could be mounted on unmanned aircraft such as the UAVs which are already currently in use. However, the Air Force is looking into heavier caliber laser weapons to be developed in the next five years: medium-powered system that could be used defensively against missiles and projectiles, and high-powered lasers that could be used for offensive strikes.
According to the Defense Advanced Research Projects Agency (DARPA), enemy threats to aircraft, both manned and unmanned, have grown increasingly sophisticated and require a powerful response. In addition to being used for defensive purposes, lasers could also be of great help in offensive missions, with precision strikes that minimize collateral damage.
The technology for deadly lasers already exists, but the weapons will need to be lighter to work on aircraft.
"The goal of the HELLADS program is to develop a 150 kilowatt (kW) laser weapon system that is ten times smaller and lighter than current lasers of similar power, enabling integration onto tactical aircraft to defend against and defeat ground threats," DARPA's David Shaver explained, according to Tech Times.
READ MORE: Air Force plans to arm sixth-generation fighters with laser weapons
HELLADS is under development by General Atomics in conjunction with DARPA, and is the most likely contender to be the Navy's weapon of the future. That system is now entering the ground testing phase of development. At 150 watts, it is capable of destroying or severely damaging both air- and ground-based targets.
The Pentagon has been pushing for the adoption of laser weaponry across all branches of the military. The US Navy has already deployed a laser weapon on the USS Ponce, according to Ars Technica. It defends its host ship by either blinding the sensors and operators of enemy craft, or by overheating their critical components.