Woman ticketed for having HIV wins $40k from Michigan town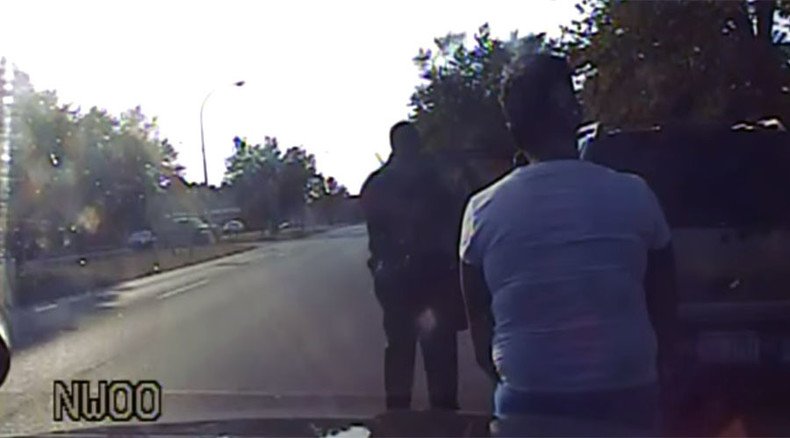 The city of Dearborn, Michigan will pay $40,000 to a Detroit woman who was given a ticket for marijuana possession because she did not tell a police officer that she was HIV-positive.
In 2012, Detroit woman Shalandra Jones was a passenger in a car that was pulled over by police officer David Lacey based on a broken taillight, according to reports. The encounter was filmed via Lacey's dashboard camera. That video eventually came to light via a Michigan Freedom of Information Act request.
When Lacey learned that Jones was taking medication to treat HIV, he ridiculed her for not sharing the information and said outright that he was giving her a ticket for marijuana found in her car simply because she had not offered her HIV status. It is not against the law to withhold HIV status from a police officer.
"I just rolled up and saw the brake light out, and I thought, 'Well, you know, what? I'm kind of bored.' So, might as well, it's worth a stop," Lacey said, according to video of the stop first obtained by the American Independent.
Once Lacey smelled marijuana, he searched the car. Both the driver and Jones denied smoking it, police said. While searching Jones' purse, Lacey found medication that Jones said was used to treat her HIV. He then became "aggravated" at the omission.
Jones eventually gave the marijuana to Lacey, saying it was hers, according to the Press & Guide. Jones' state-issued medical marijuana card had expired, resulting in a ticket for possession. The misdemeanor marijuana possession charge was dropped in 2013.
READ MORE: Indiana mayor arrested for patronizing male sex-worker who concealed HIV status
"You just made me mad," Lacey is heard saying in the recording, adding that he "did not want to take any diseases home to his family," and that "Dearborn does not have that many people living with HIV, and the police do not like people with HIV."
Lacey continued to berate Jones, admitting that he was punishing her for not revealing her HIV status.

"Honestly, if it wasn't for that, I don't think I would have wrote anybody for anything. But that kind of really aggravated me, you know what I mean? You got to tell me right away... Because at that time, I wasn't wearing any gloves," he said.
Lacey also suggested he had taken punitive action against other people for not disclosing their conditions.
"So that way we don't get pissed. Cause otherwise we get pissed. Bad things happen," he said. "I found a needle on a guy once and he didn't tell me.... He's not going to forget anymore."
In January 2014, Jones sued the city of Dearborn. The settlement with Jones was reached on August 31.
"We believe this was an isolated incident with a single officer and not reflective of the behavior of our police department," said Mary Laundroche, spokeswoman for the city of Dearborn, according to the Detroit Free Press. "Respect for everyone is emphasized in all police department training."
In the lawsuit, Jones' attorneys said Lacey violated her privacy rights, rights pursuant to the Americans with Disabilities Act, and state law when he revealed to the driver and another passenger in the car that Jones had HIV. It also alleged that she was "discriminatorily detained" because of her medical condition.

"I'm glad that Shalandra got some justice," said Joshua Moore, Jones' attorney and president of Detroit Legal Services. "It was a pretty clear cut case with the video. What happened to her was awful. No one should have to go through that."

The driver of the car was ticketed for not having a valid license and for a warrant on an unpaid traffic ticket.