Over a third of deported migrants robbed, separated from families by US border agents – report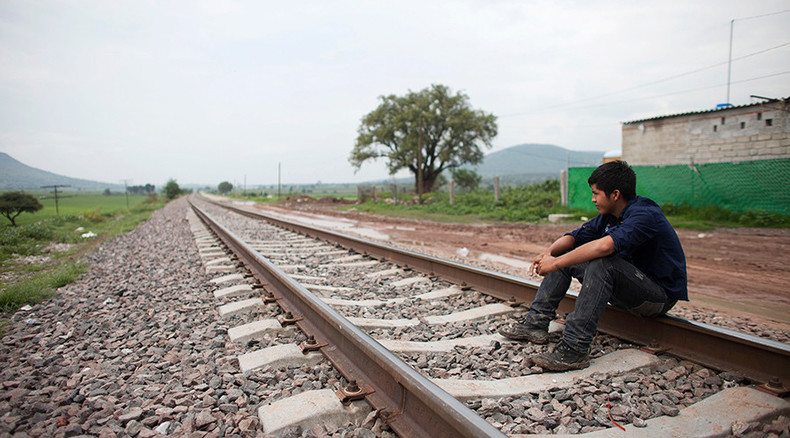 A new report reveals rampant abuse by US Customs and Border Patrol agents towards migrants being deported to Mexico. One in three men and women said they were subjected to some type of abuse, whether verbal or physical, and often robbed.
The report, which was based on first-hand accounts, found that 38.4 percent of Mexican migrants reported abuse, most often verbal, and that two-thirds of migrants had been separated from their immediate family on being deported.
The report argues that the percentage could be even higher, because abuse "can deter [people] from making complaints."
The report, entitled "Migrant Abuse and Family Separation at the Border," was commissioned by the Jesuit Conference of Canada and the US and the Kino Border Initiative, a bi-national organization promoting humane immigration policies.
The stories often came from people who were detained at the border while trying to enter the US and who were then held and returned to Mexico. There were accounts of migrants having their belongings taken, often money or cell phones, and not returned. This happened to more men than women, and left many vulnerable to extortion and stranded in dangerous border cities.
Additionally, there were accounts of families being separated and sent to different towns when deported. In one account Alonso, a 30-year-old Mexican national, was crossing the desert in July 2015 with his two teenage nephews and a teenage cousin when they were detained by border control. They were separated in US holding cells overnight, and then Alonso was deported to Mexicali and the teenagers sent to Nogales. By the time the family was reunited, the teenagers had spent three days in a shelter not knowing where their uncle was and fearful that he was still under arrest in the US.
The report was critical of the border patrol's practice of nighttime deportations. As many as 28 percent of migrants, including 16 percent of women, reported being returned to Mexico at night when it is less safe. Many shelters and civil organizations are not open for shelter or to provide safety at night.
There were also accusations of coerced deportations, with Mexican nationals not being given a change to meet an asylum officer or be heard by an immigration judge.
ThinkProgress reported that the American Civil Liberties Union of San Diego settled a lawsuit last year with the Department of Homeland Security after nine Mexican nationals were forced to sign documents for "voluntary return." ACLU attorneys believe that potentially hundreds more were returned between June 1, 2009 and August 28, 2014.
"Border patrol agents often told people that there were no real consequences, that they could easily fix their papers," Gabriela Rivera, an ACLU attorney, told ThinkProgress. "They would sign their forms and find out there was no easy way to come back to the United States."