NASA's 'Mars Trek' could help find human landing sites on Red Planet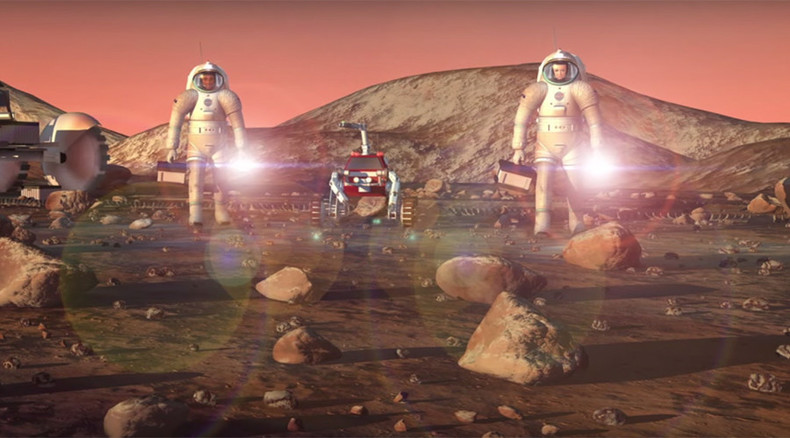 Astronauts won't be landing on Mars for another two decades or so, but NASA announced Monday that an updated version of its interactive virtual map of the Red Planet could help astronomers find potential landing spots for humans in the future.
Currently, the interactive "Mars Trek" map can be used by internet users from around the world to scour the surface of the planet, getting a birds-eye view of the vast red landscape from the safety of their own computer chair. It was initially unveiled during the summer, but, in a video published Monday, NASA's Brian Day from the Ames Research Center hinted that the agency has even more ambitious plans for the program.
"Working with our expert development team at [the Jet Propulsion Laboratory], we have just released our latest product, Mars Trek," Day said, "a web-based portal allows mission planners, scientists, and the general public to explore the surface of Mars in great detail, as seen through the eyes of a variety of instruments on a number of spacecraft."
Day said that upcoming releases will see the Mars Trek software being used in selection and analysis of sites for the next Mars rover mission in 2020, and also to seek out potential human landing sites on Mars.
"In a couple of decades, the first humans will set foot on Mars but right now we all have the capability of exploring the surface of Mars and preparing for this great adventure," he said, adding that Mars Trek gives humans "a virtual presence" on the planet.
Mars Trek can already be accessed to inspect the planet's landscape and features. Users can choose between a global view of Mars and views of its North and South Poles. Clicking on a feature will bring up statistics such as diameter and origin data, while other tools can help calculate distances between points, angles, and elevation.
A "bookmarks" feature will instantly take users to various important sites on the Red Planet, such as the landing sites of the various rovers, and natural landmarks like volcanoes and valleys.
Mars Trek even allows users with 3D printers to print out models of the landscape.
While NASA still plans to put boots on the Martian ground in the 2030s, the mission suffered a potential setback last week. The space agency delayed the first manned flight of the Orion spacecraft, which is meant to take astronauts to Mars, by two years, from 2021 to 2023.
A comprehensive review of the Orion spacecraft is underway, and budgetary constraints are also to blame for the delay.
You can share this story on social media: