'F*ck your town' is free speech, court says after NY town detains man for speeding ticket reaction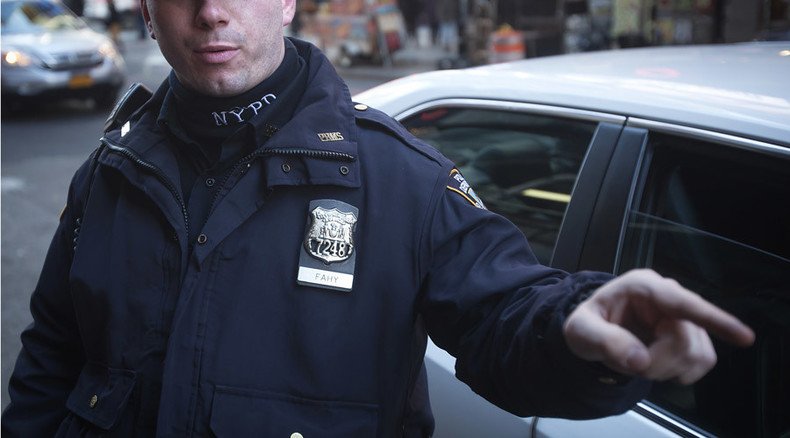 A man defended his First Amendment right to cursing the government, after a rude message he'd left on a paid speeding ticket got him arrested by a New York town. The defense discovered the town has a history of prosecuting people for cursing.
Three years later this Thursday, a federal court in New York finally conceded the remarks fell under the First Amendment, which the town violated by wrongfully charging William M. Barboza with 'aggravated harassment.'
READ MORE: Businessman wins 11-year court battle over FBI's surveillance gag order
It all started in 2012, when Barboza sped through the town of Liberty, in upstate New York. He duly received a speeding ticket. He did send back payment of $200 in accordance with the law, but scribbled a rather rude message on the ticket – "F*ck your sh*tty town b*tches," substituting 'Liberty' for 'Tyranny'.
Liberty wasn't laughing at the liberty Mr Barboza had taken.
The local court summoned Barboza, instead of accepting the money. Barboza drove to Liberty from his home in Connecticut to spend several hours in detention. Now, Barboza wasn't laughing either.
With the help of the New York Civil Liberties Union, he defended his and every upcoming traffic violator's right to assess a town's quality in any language they see fit.
"The whole time that I was there, it felt like an episode of 'The Twilight Zone,'" he told the New York Times over the phone. "I just wanted to ask if they had any sense of irony at all."
But perhaps there's more to Liberty than meets the eye. Barboza's lawyers got wind of the town's general habit of unconstitutionally lashing out at people for using vulgar language, and used the fact to their advantage. Apparently, Liberty uses every opportunity to prosecute folks for cursing.
"People use language like this all the time," Barboza's lawyer Stephen Bergstein said.
"They send letters like this to customer service at Verizon, the I.R.S," he added
The town's officers also got a good lecture on proper procedure from the Civil Liberties Union. "At trial, we'd hope to show that the village is liable for failing to train their officers on basic First Amendment rights," Mariko Hirose with the union said. "This kind of false arrest should never have happened."
The prosecution had no comeback. A federal judge conceded, "Though crude and offensive to some, [the message] did not convey an imminent threat and was made in the context of complaining about government activity.
READ MORE: Police shoot bystander, mistaking his cell phone for gun during standoff
"The words here are not inherently likely to provoke violent reaction, they were not directed at anyone in particular, and could not be interpreted as threatening any particular action," Judge Cathy Seibel said in the hearing, held in White Plains, an hour-and-a-half drive southeast of Liberty.
"I hope that by standing up for myself, other Americans will not be treated like criminals for complaining about their government with a few harmless words," Barboza was cited as saying by the Union.
You can share this story on social media: