'Cherry pie all over the wall': US cops caught on film joking about shooting suspects (VIDEO)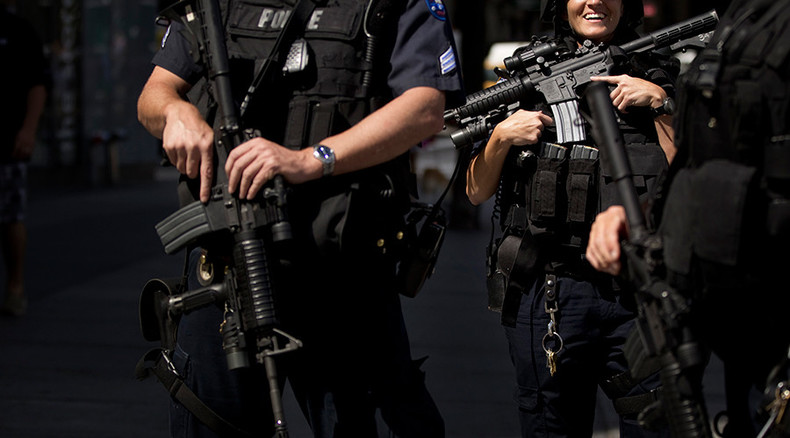 Two San Francisco police officers have been filmed in a donut cafe joking about getting away with killing suspects. Posted on Instagram, the video has caused public outrage and has prompted an investigation.
The uniformed officers can be seen seated at a Happy Donuts in San Francisco, according to the person who posted the video. The two can be heard graphically describing what bodycams would show as a result of a police shooting - and what evidence they would and wouldn't want to be seen on such footage.
READ MORE: August heat: 6 cops shot, 103 people killed by police in US
"What you want on video is the guy holding the gun still and going... still pointing at you," one of the officers says in what appears to be a light-hearted conversation that makes the two laugh. "Not [showing hands up] and then BAM-BAM-BAM... cherry pie all over the wall," the officer said.
The videos surfaced on Instagram this week, with the user saying she "simply reposted these videos to inform the community about the individuals who are sworn in to 'serve and protect.'" Police in San Francisco do not wear body cameras yet, but a project to equip them is in the works.
With journalists and other people concerned asking the user to contact them, she said she had told the persons responsible for the video of the inquiries, and they might be in touch "should they decide to move forward."
With at least one of the cops being clearly seen on the footage, the San Francisco PD chief has said he knows who those officers are. Having said that the full context may lead to disciplinary action, he called on the person who filmed it to provide the full length conversation. An investigation has started, the SFPD said.
"We want to carry ourselves as the representatives of one of the most thoughtful classy police departments in the country," San Francisco police chief Greg Suhr told NBC Bay Area, adding that "it doesn't look like that in this video to me."
Although such a conversation in public is not illegal, social media users appear to be shocked and outraged with the officers' behavior, posting comments such as: "These two are sick and seriously need counseling," "Just doing their jobs, right? Unbelievable," and "These cops need to be fired. They don't deserve to wear a badge."