Assisted suicide bill passes California Senate, heads to governor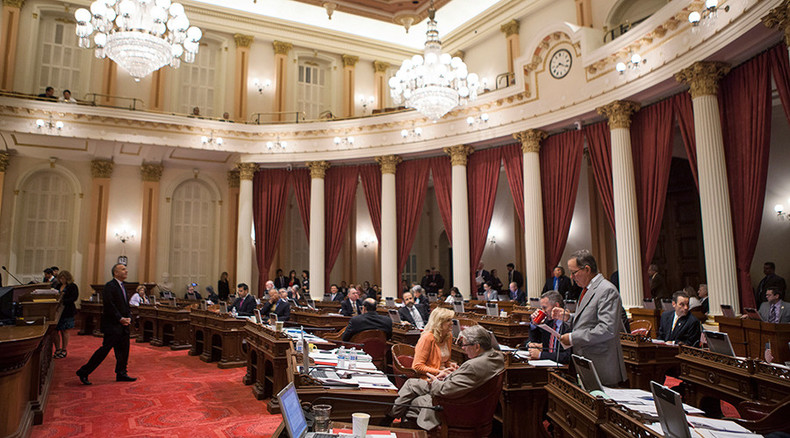 The California State Senate has approved the so-called right-to-die bill following its passage in the State Assembly, despite opposition from religious and disability rights groups. The bill is now awaiting approval from California's Democratic Governor.
The Senate approved the End of Life Option Act in what co-author of the measure Senator Lois Wolk (D-Davis) called a "historic effort." Lawmakers approved the bill on a 23-14 vote after heated debates on Friday, the legislative session's final day.
The Senate has now sent the bill to Governor Jerry Brown. If signed into law, it would allow physicians to prescribe life-ending drugs to terminally ill Californians upon their request.
"Californians want us to act to eliminate the needless pain and prolonged suffering of those who are dying," Wolk told legislators, as cited by the Los Angeles Times.
Wolk predicted earlier that Brown, a lifelong Catholic, would "struggle with this issue" given that the bill has been widely opposed by the Roman Catholic Church and disability rights groups, as well as some doctors and politicians.
"Let's call this what it is. It's not death with dignity. It's assisted killing," said one of the opponents, Republican Senator Robert Huff of San Dimas, as quoted by the Times.
The bill's detractors insist that the legislation requires more work, as there are too many unanswered questions when it comes, for example, to preventing relatives from forcing patients to end their lives prematurely. There have also been concerns that the measure could pose dangers to vulnerable people and those with disabilities, as it could prompt premature suicides.
Governor Brown has never publically expressed his opinion on the bill or said whether he would sign it into law.
If he does, California would become the fifth state having such a law, along with Oregon, Montana, Vermont and Washington. It would sunset in 10 years, giving lawmakers a chance to review its merits and decide whether to grant an extension.
The End of Life Option Act was inspired by 29-year-old Brittany Maynard, a California woman with terminal brain cancer who moved to Oregon to legally take her own life. She had fervently urged California lawmakers to pass the legislation before she died. She passed away on November 1, 2014, as she had planned. A week before her death, Maynard lobbied Brown for his support during a telephone conversation.
In May, the bill was endorsed by the California Medical Association, which abandoned its 30-year opposition to physician-assisted suicide, thus removing a major obstacle for the legislation. It marked the first time a state medical association has supported a right-to-die measure.
"I am confident that the governor will listen to the 75% of Californians who do support this option, that the governor will take into consideration that this is an option for an individual voluntarily to pursue," Maynard's husband, Dan Diaz, said as cited by the Times. "Ethically this decision belongs with the individual working with his physician. I am hopeful."
The Senate debates were also attended by Maynard's mother.
California's End of Life Option Act is based on Oregon's Death with Dignity Act, which passed in 1994.