Teens using e-cigarettes to vape marijuana - study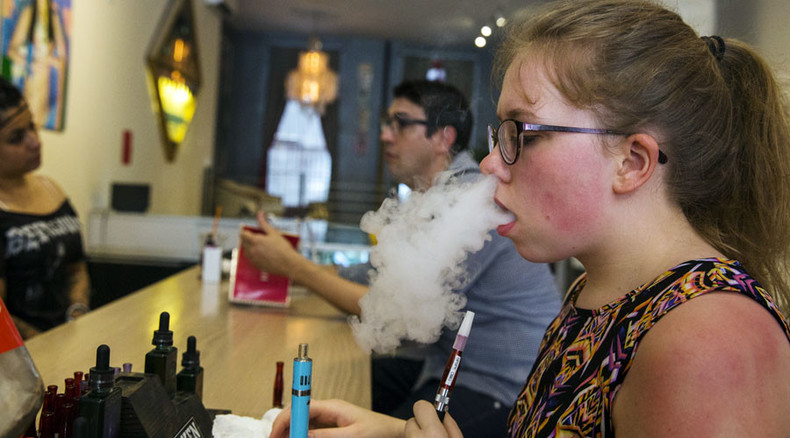 One in five Connecticut high school students uses electronic cigarettes to vaporize cannabis, creating a more potent high while concealing the smell of pot, a new study found.
Battery-powered e-cigarettes are used to heat and vaporize liquid nicotine held in removable cartridges. Instead, Teenagers are now using hash oil, dried cannabis leaves, or wax infused with THC, or tetrahydrocannabinol, the psychoactive ingredient in marijuana, according to research published Monday in the journal Pediatrics.

Yale University researchers found that in the spring of 2014, 27.9 percent of the 3,847 Connecticut high school students surveyed said they use e-cigarettes, billed as a safer form of nicotine consumption than regular cigarettes. Of them, 18.7 percent were "dual users" who also used the devices to vape marijuana.
"New study shows that teens are using e-cigarettes to vape marijuana as well as nicotine" #truestory I can't type DUH big enough…so I won't

— The NACH-O-MATIC (@kickitupanacho) September 7, 2015
Younger male teens were more likely to smoke pot through e-cigarettes, the study found.

The researchers wrote that their findings "raise concern about the lack of e-cigarette regulations."

"This is a relatively novel way of using marijuana, and kids are using it at a fairly high rate," said researcher Meghan E. Morean, an assistant professor of psychology at Oberlin College who worked on the study at Yale.
READ MORE: E-cigarette is '95% less harmful' but may encourage teenage smoking, conflicting studies suggest

Vaping marijuana blunts the smell of pot, Morean said. The practice could also expose users to higher concentrations of THC.

"It's so much easier to conceal e-cigarette pot use," Morean told USA Today. "Everybody knows that characteristic smell of marijuana, but this vapor is different. It's possible that teenagers are using pot in a much less detectable way."

The researchers said they were not sure how representative their study is of the entire nation, but they said they surveyed teens from diverse populations and and economic backgrounds.
READ MORE: Big Tobacco accused of using FOI to access data on kids' smoking habits
A 2014 study found that vaping pot is successful for pain management, especially for relief from nerve ailments.
Earlier this month, another study found that college students in the US are now more likely to smoke marijuana than cigarettes on a daily basis.

The nationwide survey was conducted in 2014 by the University of Michigan's Monitoring the Future study, and it shows that 5.9 percent of college students reported using marijuana on a daily or near-daily basis, up from a mere 3.5 percent in 2007. Meanwhile, 5.2 percent of students reported they smoked cigarettes on a daily or near-daily basis.

Marijuana has faced reductions in legal restrictions across the US in recent years. Four states – Washington, Oregon, Alaska and Colorado – and the District of Columbia have made pot legal. Sixteen other states have decriminalized the drug, and 23 have legalized cannabis use for medical purposes.