E-cigarette is '95% less harmful' but may encourage teenage smoking, conflicting studies suggest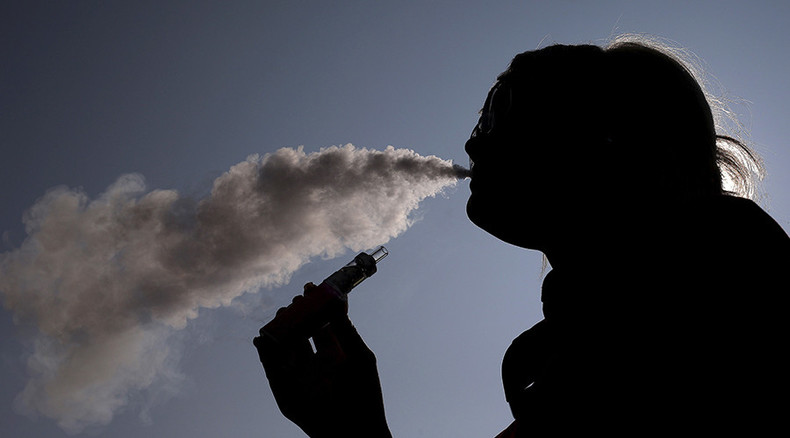 Smokers should embrace modern technology and switch to "95 percent less harmful" e-cigarettes which could help them kick the habit forever, a new British study states. At the same time, a US study has suggeestedvthat teens who had tried the electronic substitute are more likely to start smoking.
They look like the real thing: glowing when you smoke and producing clouds of pleasant or tasteless vapor. But while they cure one's cravings for tobacco, the battery-operated devices are also capable to help with a transition to a smoke-free life, Public Health England discovered.

E-cigarettes operate on a battery that activates the heating element that vaporizes liquid, which may or may not contain nicotine along with some flavorings. But unlike conventional tobacco products, the electronic replacement lacks chemicals that cause smoke-related diseases in humans. E-cigarettes don't burn, therefore the danger of passive smoking is also eliminated, allegedly making e-cigarettes much less harmful.
READ MORE: Smokers may be at greater risk of developing psychosis – study
"E-cigarettes are not completely risk free but when compared to smoking, evidence shows they carry just a fraction of the harm," said Professor Kevin Fenton from Public Health England, which carried out the study.
According to Public Health England, e-cigarettes are the most popular method and leading aid for smokers trying to quit in both the UK and USA. The study said that some 2.6 million adults using e-cigarettes in Britain are current or ex-smokers who resorted to the device as a tool to quit, while only 2 percent of young people are regular users.
Researchers say that despite scientific evidence, media campaigns designed for young people continue to insist that e-cigarettes are equally or more harmful than smoking, calling it a "gateway" to tobacco.
"There is no evidence that e-cigarettes are undermining England's falling smoking rates," said Professor Ann McNeil who helped author the study. "Instead the evidence consistently finds that e-cigarettes are another tool for stopping smoking and in my view smokers should try vaping, and vapers should stop smoking entirely."
READ MORE: Cash for influence? 38 British MPs accepted over £60k in gifts from tobacco firms

Tobacco manufacturers such as Philip Morris International and British American Tobacco (BAT) who had invested heavily in the e-cigarette business have welcomed the new study as they try to recuperate the market share loss after tobacco sales declined.
BAT called the study an "incredibly important milestone," as the company acknowledged the high risk in cigarette smoke. The company said increasing sales of e-cigarettes would greatly benefit human health among tobacco addicts.
The new research however contradicts last year's findings by the World Health Organization that called for the strict regulation of e-cigarettes and urged bans on their indoor use and sale to minors.
The study also goes against the conclusions of another piee of research by the University of Southern California, published Tuesday, which said American teens are more than twice as likely to start smoking conventional cigarettes after having tried their electronic substitute.
The research involving more than 2,500 students at 10 Los Angeles schools has discovered that 30.7 percent of respondents who had used e-cigarettes at the start of their studies had moved on to either hookah, regular cigarettes or cigars while only 8 percent of those who had never used e-cigarettes eventually started smoking. This pattern held at the 12-month mark as well.
"What is extremely worrisome is that these findings further indicate that e-cigarette use by our nation's youth, which is a major concern in itself, may also be a gateway to smoking," American Heart Assn. Chief Executive Nancy Brown said in a statement. "This new study truly underscores just how dangerous of a habit e-cigarette use can be, especially if it is leading to teens taking up additional tobacco products."
You can share this story on social media: