'He's happy to see me!' Fish spawns on Obama during Alaska visit (VIDEO)
Published time: 4 Sep, 2015 02:02
Edited time: 4 Sep, 2015 05:27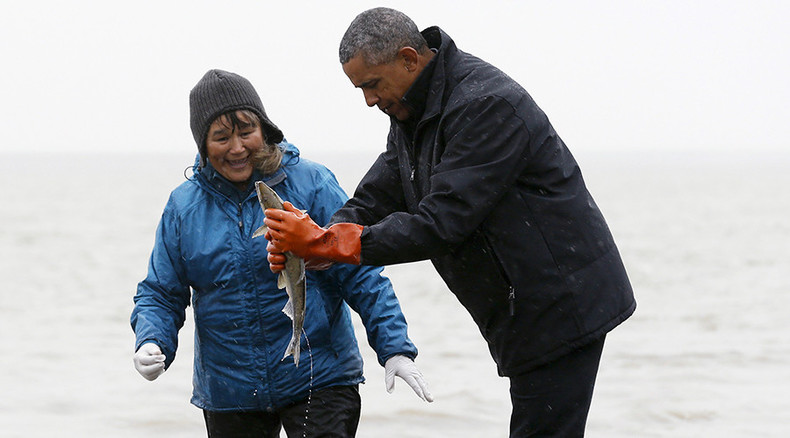 Frequent advice for photo shoots and movies is never to work with animals, but that didn't stop President Barack Obama from inspecting his catch after a fishing trip in Alaska. On cue, one of the sockeye salmon spawned on him.
The moment happened during President Obama's historic visit to Alaska, when he went fishing at Kanakanak Beach in Dillingham on Wednesday.
Decked out in a pair of orange gloves, Obama examined fish from the catch that had come in. The second salmon that he picked up suddenly began squirting towards his shoes.
"Uh-oh, what's happening there?" Obama asked.
The woman standing next to him explained that the salmon was spawning.
"Did you see that? Something got on my shoes," Obama called out to the press. "He was spawning a little bit, which generally you don't want fish spawning on your feet."
"He was happy to see me," Obama added.
Obama said 40 percent of America's wild-caught seafood comes from the area around Dillingham, in the southwestern part of Alaska.
During his Alaska trip, the first time a sitting president has visited the Arctic, Obama made extensive use of a selfie stick to record himself standing in front of a rapidly melting glacier, which promoted a segment urging action on climate change.
On the internet, though, the seriousness of his message did not prevent a short flurry of parodies of the president in his poses.
Or dressed up like a stereotypical pimp.
Or staring at a picture of his vice president, Joe Biden, who is currently considering a 2016 presidential run.
Another selfie video shows Obama in front of an ocean that he explains, in a few months, will be transformed into three to four feet of ice, and locals will walk across it to pick firewood.