Judge orders Kim Davis to jail for holding up marriage licenses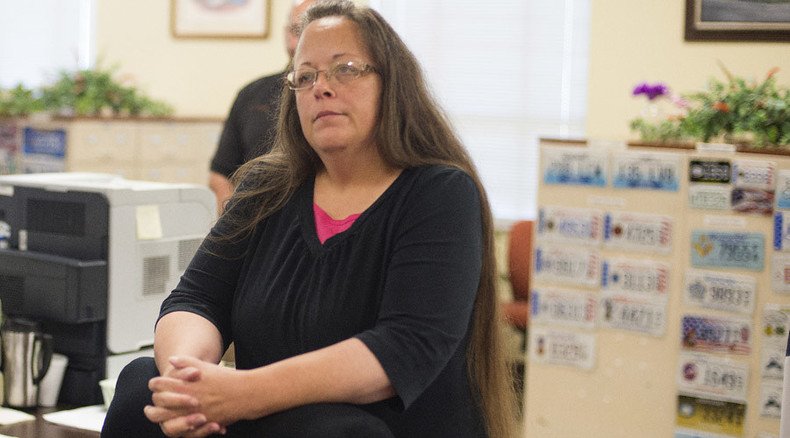 The Kentucky county clerk citing religious reasons for refusing to issue marriage licenses was jailed for contempt of court. Kim Davis was taken into custody by US Marshals, after defying orders from a federal judge to issue licenses to same-sex couples.
US District Judge David Bunning ordered Davis detained, saying a fine would not be enough to force her compliance. Lawyers for the American Civil Liberties Union (ACLU), who filed a motion to find Davis in contempt, specifically requested a fine instead of imprisonment, in order to avoid having the Rowan County clerk become a martyr for her cause. Davis cannot be fired from the post, because she is as an elected official.
Deputy clerks were also threatened with contempt charges if they refused to issue marriage licenses. Five of the six clerks said they would comply with the judge's order, AP reported. One of the deputy clerks, who is Davis's son, continues to refuse, but will not be charged with contempt, according to local media.
The jailing of Davis has prompted criticism from conservatives. Former Arkansas governor Mike Huckabee, running for the 2016 Republican presidential nomination, argued that the Rowan County clerk was being persecuted for her religious beliefs. Another candidate, Texas Senator Ted Cruz, said that by jailing Davis the US government was sending a message to Christians that they should not serve in public office.
"Where is the call for President Obama to resign for ignoring and defying our immigration laws, our welfare reform laws, and even his own Obamacare?" Cruz asked.
Conservative columnist Scott Ott took issue with a statement Judge Bunning made to Davis that the idea of natural law superseding his authority would be a "dangerous precedent." The underlying political theory of the American constitutional republic, wrote Ott, was that "the Laws of Nature and of Nature's God" trumped the power of the government.
The US Supreme Court ruled in June that marriage was a fundamental constitutional right, striking down laws in Michigan, Kentucky, Ohio and Tennessee, which defined marriage as "a union between one man and one woman."
Following the Obergefell v. Hodges ruling, Kentucky instructed county clerks to issue marriage licenses to same-sex couples. Of the 120 county clerks in the state, 57 have objected. Kim Davis of Rowan County flat-out refused to issue any marriage licenses at all, since denying them only to same-sex couples would be discrimination.
"To issue a marriage license which conflicts with God's definition of marriage, with my name affixed to the certificate, would violate my conscience," Davis explained in a statement. "It is not a light issue for me. It is a Heaven or Hell decision."
Davis became an Apostolic Christian four years ago. Before that, she was married three times and is currently remarried to her second ex-husband. "I am not perfect," Davis noted in the statement. "No one is. But I am forgiven."
Judge Bunning ordered Davis on August 12 to lift her ban on marriage licenses. Since she has not complied with the order, ACLU lawyers argued, she should be fined or otherwise punished for contempt of court. ACLU lawyers are asking Judge Bunning to "impose financial penalties sufficiently serious and increasingly onerous," but are not asking for jail time.
Davis, a Democrat, is an elected official and cannot be fired from her post. Kentucky law allows the Commonwealth to indict many public officials for "malfeasance in office or willful neglect in the discharge of official duties," which carries a fine of up to $1,000 and removal from office upon conviction, according to Louisville daily the Courier-Journal. However, that particular statute does not apply to county clerks.
While there are other county clerks in Kentucky refusing to issue marriage licenses at the moment, the national attention has focused on Davis. Social media have been passing around memes blasting the clerk for not doing her job, or bringing up her marriage history as an example of hypocrisy. There is even an expletive-laden Twitter parody account, pretending to represent the woman shown sitting next to Davis in a photo. It has attracted almost 15,000 followers in just three days.
Davis says she never wanted to be placed in the position forcing her to choose between her beliefs and doing her job.
"I want to continue to perform my duties, but I also am requesting what our Founders envisioned — that conscience and religious freedom would be protected," she said in the statement. "That is all I am asking."
Davis "remains free to practice her Apostolic Christian beliefs, may continue to attend church twice a week, participate in Bible Study and minister to female inmates at the Rowan County Jail," Judge Bunning said in the August 12 ruling. "She is even free to believe that marriage is a union between one man and one woman, as many Americans do. However, her religious convictions cannot excuse her from performing the duties that she took an oath to perform as Rowan County Clerk."
You can share this story on social media: