Altered blood cells hunt and kill cancer, lead to remission in some patients – report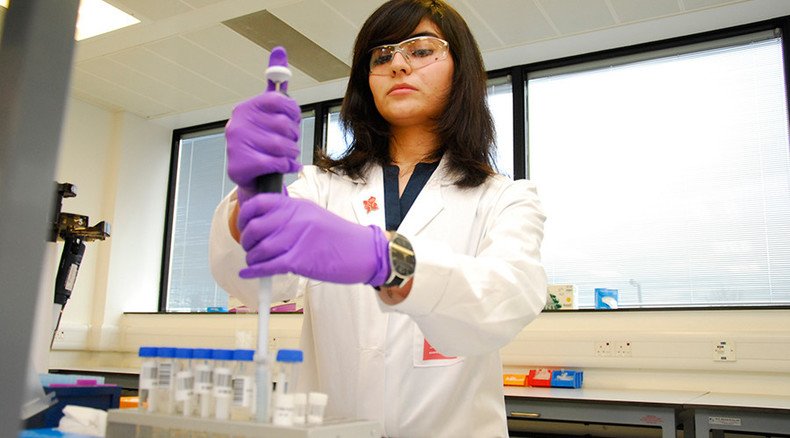 Treating leukemia sufferers with modified versions of their own blood cells, which can hunt and kill cancer cells, can lead to complete remission in 57 percent of cases, according to a new report from the University of Pennsylvania.
Eight out of 14 patients responded to therapy in the first trial of the university's personalized cellular therapy for chronic lymphocytic leukemia (CLL), a cancer that affects the blood and bone marrow, with some complete remissions continuing past four and a half years.
The therapy collects the patient's own T cells through a procedure similar to dialysis. The cells are then reprogrammed to hunt and potentially kill cancer cells in the patient's body. After the patient undergoes lymphodepleting chemotherapy, they receive an infusion of their newly engineered blood cells. The modified T cells contain an antibody-like protein which is designed to target a receptor on the surface of B cells, including the cancerous B cells that characterize several types of leukemia and lymphoma.
"This is a whole new approach to treating cancer," said David Porter, a leukemia researcher at the University of Pennsylvania and a co-author of the study, according to The Verge.
"This is a living drug," Porter added. "The T cells grow and live in the body."
The report was published in Science Translational Medicine in August, and is the follow-up to a study published in 2011 which described the treatment for the first time.
Researchers found that three cancer patients in the test group were in complete remission four years after being treated with the modified blood cells, and they were using no other therapies. One other patient was in remission but died of complications from surgery that aimed to remove a skin cancer lesion.
An additional four patients achieved partial responses to the therapy, with responses lasting a median of seven months. Of the people who didn't respond to the therapy, two died; the other four are still alive and receiving other treatments.
"The durability of the remissions…are remarkable and have given us great hope that personalized cell therapies are going to be important options for patients whose cancers are no longer treatable with standard approaches," said Porter, according to Medicalxpress.com
"The patients in this study are pioneers, whose participation has given us a foundation of knowledge and experience on which to build this new approach to help more patients."
As the therapy compromises a patient's immune system, those in the study experienced side effects such as "cytokine release syndrome (CRS)," causing the body to overexert itself and suffer from fevers, nausea, low blood pressure and problems breathing. All the patients recovered from their CRS.
An immunologist from Memorial Sloan-Kettering, Michel Sadelain, told The Verge that CLL is "essentially incurable today." He did not work on the study.
An estimated 14,620 people will be diagnosed with chronic lymphocytic leukemia this year, according to the National Institutes of Health, and 4,650 people will die of the disease.
You can share this story on social media: