Hunger strikers protesting closure of low-income Chicago high school march on Washington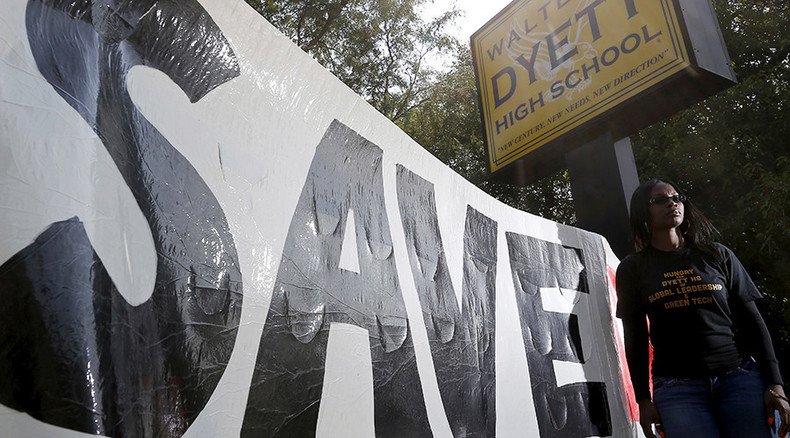 Parents participating in a 2.5-week hunger strike to protest the closing of their children's' Chicago, Illinois high school are marching on Washington to deliver a letter to the education secretary. Protesters say shutting down the school is "racist."
With temperatures ‒ and the heat index ‒ in the low 90s, two of the dozen protesters who haven't eaten solid foods in 17 days, Jitu Brown and April Stogner, arrived at the Department of Education headquarters in the nation's capital on Wednesday afternoon. The hunger strike participants consist of parents and community members concerned about the closure of Walter H. Dyett High School in June after years of poor performance and dwindling enrollment.
Brown and Stogner hoped to hand-deliver a letter to Secretary Arne Duncan, who ran Chicago Public Schools for eight years before being tapped by President Barack Obama to head the Department of Education. They were joined by American Federation of Teachers President Randi Weingarten and National Education Association President Lily Eskelsen García.
The group seeks to reopen Dwyer as a "global leadership and green technology school" with a science-based curriculum that takes advantage of the school's location near a major park, the Washington Post reported. They would also like to convince the city of Chicago to renovate the facility, turning it into a LEED-certified green building.
The Chicago Teachers Union called Mayor Rahm Emanuel's decision to close the school as "racist" and "classist," according to ThinkProgress. The activists reiterated those themes in their letter to Duncan.
"One of the challenges facing African American parents and students in Chicago is the lack of response and accountability from elected and appointed officials," they wrote.
"Affluent neighborhoods receive selective enrollment and well-resourced schools," the letter continued. "However, communities comprised of predominantly low-income and working families have to contend with under-resourced schools and privatization models that undermine the integrity of the community."
READ MORE: Angry Chicago teachers take on Obama
A Duncan spokeswoman said that senior Education Department staffers would meet with the hunger strikers.
"While this is squarely a local issue, we always welcome the opportunity to engage with concerned students, parents, educators and community members," Dorie Nolt told the Washington Post.
Chicago Public Schools began closing low-performing schools under Duncan in 2002, and Emanuel has continued the trend. The city closed nearly 50 facilities in 2013, displacing more than 12,000 students.
Several of the hunger strikers have been hospitalized during their quest, and the community has laid the blame at the mayor's feet.
"We've got two people who went in the hospital and one who just left," Frances Banks, a Dyett supporter, yelled at Emanuel during a public budget meeting Monday night, the Chicago Tribune reported. "They're hungry, and you don't have enough guts or integrity to even see them… If any of them die, the blood will be on your hands!"
READ MORE: Unwelcome recess: Thousands strong teachers strike engulfs Chicago
A quarter of the protesters have been hospitalized, though none are currently in the hospital, J. Brian Malone, executive director of the Kenwood-Oakland Community Organization, a member of the Coalition to Revitalize Dyett, told ThinkProgress.
After the meeting, Emanuel met with hunger strikers, telling them that there are alternatives to Dyett.
"I would remind everybody what they're trying to work through, within a 3-mile radius, there's 10 high schools… Within about a mile of the school is King College Prep," he said. "So there's a lot of high schools in that area, and how do you talk about another one when even some of the high schools that are within the 3-mile radius are not at capacity yet?"
But Malone responded that the schools Emanuel listed aren't as accessible to the low-income, majority-black neighborhood around Dyett as the mayor seems to believe.
"The schools Mayor Emanuel have pointed to as options for their children are outside the neighborhood and existing attendance boundaries, across gang lines, militarized, selective enrollment, and/or operated by a private contractor," Malone said in a statement. "The parents and community leaders have been explicitly clear in their intention to have a high school in their community that reflects their vision."
School officials have postponed decisions that would determine the school's future fate. On September 15, they will hold a hearing on competing plans. Dyett's attendance was phased out, with the last graduating class consisting of 13 students.
You can share this story on social media: