4-day manhunt: Fox Lake police continue search for cop killers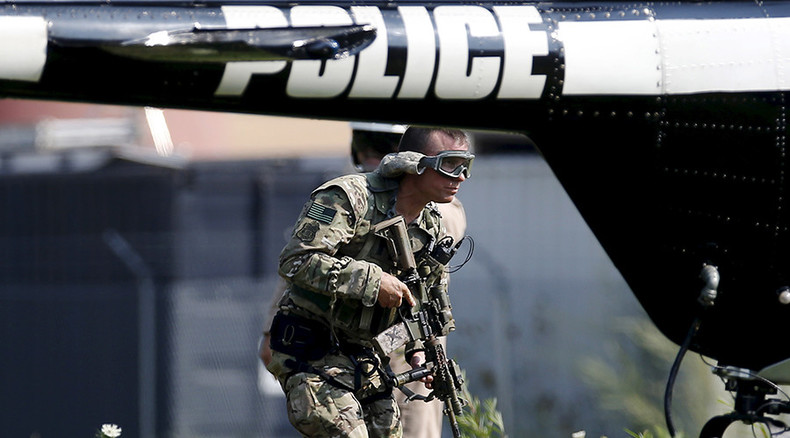 The manhunt for the three suspects believed to be responsible for the death of Illinois police officer Lieutenant Charles Joseph Gliniewicz has entered the second day. So far, the more than 24-hour operation has yielded no results.
32-year veteran of the Fox Lake Police Department, Gliniewicz was shot while on duty around 8 a.m. local time on Tuesday. The officer was pursuing three suspects – two white men and a black man – described as suspicious. They were also considered to be armed and dangerous.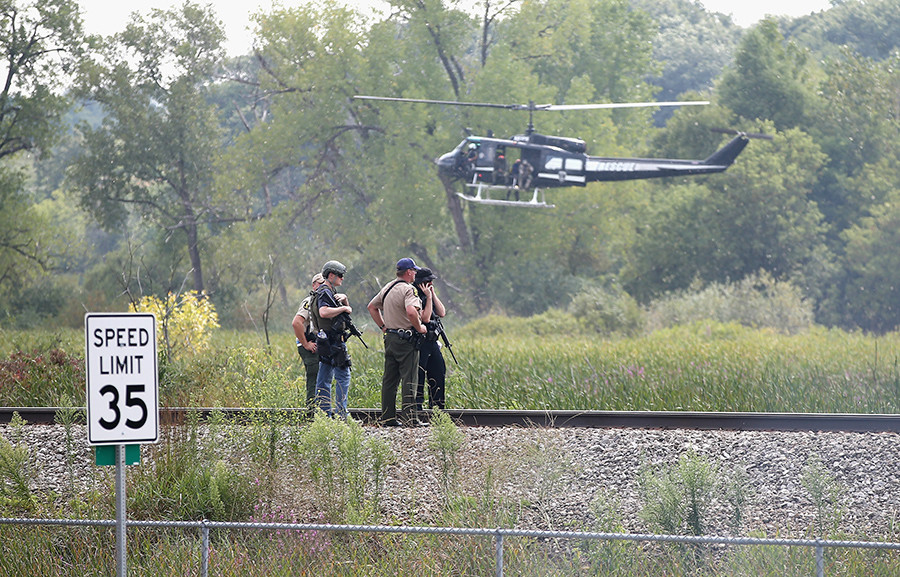 Gliniewicz died at the scene. He was the father of four boys.
Helicopters were dispatched to give assistance to around 100 officers early on Wednesday. About 48 police dogs are also aiding in the search. The manhunt involves the FBI, US Marshals and SWAT teams. Residents have been urged to stay indoors.
04 September 2015

17:54 GMT

Only description of suspects is still the one provided by Gliniewicz before he was shot #FoxLake

— Chelsea McDougall (@ChelseaNWH) September 4, 2015

17:53 GMT

Police are not ready to give a description of the shooters, but confirm that they are still believed to be two white men and a black man, Filenko says.

17:52 GMT

Asked if the videos all show the same people, Filenko says "there's a commonality there."

— Caitlin Swieca (@CaitlinSwieca) September 4, 2015

17:49 GMT

Investigators feel "optimistic" because the videos that have been received as they are coming "in chronological" order, Commissioner George Filenko told the press. He said additional video footage of the area has been recovered and that it includes images of people that police are interested in talking to.

17:48 GMT

The caliber of the weapon is a 40 caliber in Fox Lake manhunt.

— CBS 58 News (@CBS58) September 4, 2015

17:42 GMT

A $50,000 reward has been offered for any tip that leads to the apprehension and conviction of the Fox Lake cop killers, police said at a Friday press briefing.

17:35 GMT

Fox Lake presser: FBI has offered fully staffed tip line, which will help in processing leads. 1800-call-FBI

— Caitlin Swieca (@CaitlinSwieca) September 4, 2015

03 September 2015

18:09 GMT

It is likely that Lieutenant Charles Joseph Gliniewicz will be buried on Monday, but the date remains unconfirmed.

17:46 GMT

#BREAKING: "presuming that there is a good probability that they are still somewhere in the area," George Filenko, Major Crimes task force

— Elizabeth Matthews (@ElizabethFox32) September 3, 2015

17:45 GMT

Investigators are "moving forward", Filenko said, adding that they are "getting an influx of significant leads."