Former CIA director Petraeus wants to use Al-Qaeda to fight ISIS – report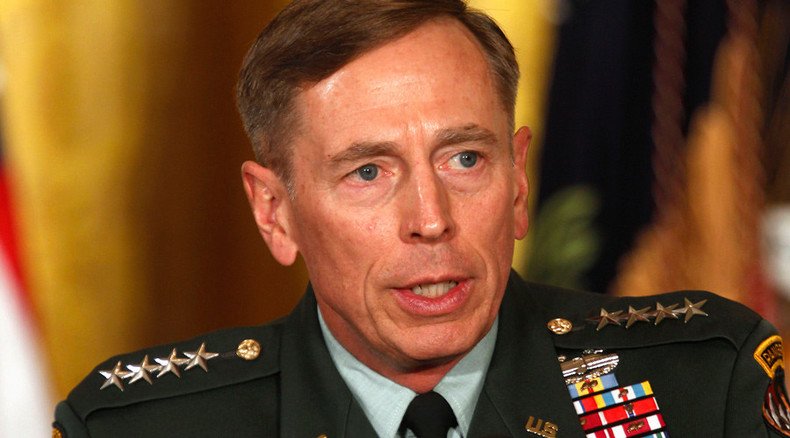 Former Army general and CIA director David Petraeus has been urging US officials to consider using the Al-Qaeda-linked Al-Nusra Front to fight ISIS in Syria, The Daily Beast reported.
Petraeus has been discreetly urging US officials to consider using "moderate" members of Al-Nusra Front to fight Islamic State (IS, formerly ISIS/ISIL) in Syria, the website reported, citing four sources familiar with conversations – including one person who reportedly spoke to Petraeus directly.
The idea reportedly stems from Petraeus' experience in Iraq in 2007, when Washington persuaded Sunni militias to stop fighting with Al-Qaeda and work with the US military.
But the notion of joining forces with Al-Qaeda a mere 14 years after the group launched the 9/11 attacks did not sit well with most of the US officials interviewed by the website. In fact, The Daily Beast said the officials found the idea "politically toxic, near impossible to execute, and strategically risky."
The website also noted that the proposed tactic would face substantial legal and security obstacles – particularly because Al-Nusra Front was deemed a terrorist organization by the Obama administration in 2012.
Just last year, Washington launched airstrikes on Al-Nusra Front locations which were housing members of the Khorasan Group – a small group of Al-Qaeda members aiming to recruit jihadists with Western passports to smuggle bombs onto civilian airliners.
Although Petraeus is still considered highly influential with current officials in Washington and foreign leaders, US officials reportedly told The Daily Beast that working directly with Al-Nusra Front is not an option.
READ MORE: Deployment of 2nd group of US-trained rebels in Syria imminent after 1st fiasco - report
Meanwhile, the retired Army general isn't the only former official who has called for talks with jihadists on the ground.
Former US ambassador to Syria Robert Ford has called for dialogue with Ahrar al-Sham – a militant group which he called "probably the most important group fighting the Syrian regime now" during a July interview with the Middle East Institute.
'Peel off reconcilables' from Al-Nusra
In response to The Daily Beast article, Petraeus told CNN that while the US should "under no circumstances try to use or co-opt Nusra," there are "some individual fighters, and perhaps some elements, within Nusra today [that] have undoubtedly joined for opportunistic rather than ideological reasons."
"They saw Nusra as a strong horse, and they haven't seen a credible alternative, as the moderate opposition has yet to be adequately resourced," Petraeus said.
He said the question remains whether it "might be possible at some point to peel off so-called 'reconcilables' who would be willing to renounce Nusra and align with the moderate opposition (supported by the US and the coalition) to fight against Nusra, ISIL, and Assad."
READ MORE: Petraeus may not get jail time for talking to a journalist, but Sterling and others did
Petraeus said that doing so would require "both the rise of much stronger, moderate opposition groups – backed, again, by the US and the coalition seeking to defeat ISIL – and at the same time, intensified military pressure on all extremist groups."
Addressing his experience in Iraq, he said that although the situation today in Syria is different, "we should nonetheless consider the possibility of trying to defeat radical groups in Syria not simply by killing or capturing the entirety of their membership – though much of that will have to be done – but also by splintering their ranks by offering a credible alternative to those 'reconcilable' elements of those organizations."
Despite trying numerous tactics to tackle ISIS, the US has so far fallen short. Washington's efforts to train local forces in Syria have not gone to plan, with many fighters from the first batch fleeing back to their homes in Syria. Others were captured by Al-Nusra Front.
Although the US military says it is still training fighters, officials have privately stated that they have fallen short of expectations, The Daily Beast reported.
The news comes just one week after the Pentagon announced that Ankara and Washington completed an agreement to allow Turkey to begin striking ISIS targets in Iraq and Syria. Officials say they do not expect the airstrikes to begin immediately.
You can share this story on social media: