Deployment of 2nd group of US-trained rebels in Syria imminent after 1st fiasco - report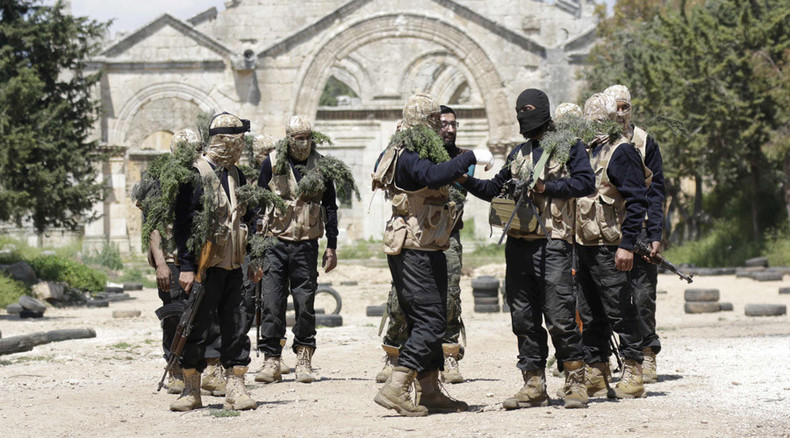 The US-led coalition is reportedly preparing to deploy a second group of Syrian rebels it trained to fight against the terrorist group Islamic State. The first one humiliatingly refused to fight Islamist group Al-Nusra Front shortly after deployment.
The second group, which is currently being trained by American and British instructors in Turkey, will be sent across to border to Syria to take control of roughly 80km of the border from Islamic State (IS, formerly ISIS), Reuters reported citing diplomatic sources. The deployment is expected to happen in a matter of weeks.
The move was hailed as a potential game changer by the news agency's sources, who said wresting the Turkish-Syrian border from IS would cut its supply of fresh records. One diplomat said it was too early to take the initial blunders of the training program to heart.
"Although there has been some skepticism about it, it is far too early to write off this program. Massive resources have been invested in this to make it work and we think it will work in the end," the source said.
This comes after reports saying that the rebel group called Division 30, which the first 60 or so US-trained fighters joined, refused to fight against an Al-Qaeda affiliate in Syria, Al-Nusra Front. Fighters from that group targeted Division 30 with a campaign of kidnappings and raids, accusing them of being America's allies.
The campaign resulted in a capture of Division 30's commanders and an eventual plea for peace from the group voiced earlier this month. It pledged not to fight against Al-Nusra Front and decried coalition strikes on Nusra positions, which were apparently launched in retaliation for the first wave of kidnappings.
"With all the immense military power the US has at its disposal, the start to the mission is nothing short of an embarrassment and if it has any hope of succeeding, it needs to show results fast," Charles Lister, a visiting fellow at the Brookings Doha Center and an expert on Syrian insurgent groups, told the Guardian at the time.
The US wants to train, arm and deploy about 1,000 rebels it deems moderate before year's end, one of Reuters' sources said. The strength of the IS is estimated anywhere between 50,000 and 80,000 by military experts, with those killed easily replaced with fresh recruits. So far the aerial campaign led by Washington proved to be ineffective in curbing IS power.
While IS is by far the strongest insurgent group in Syria, other groups like Al-Nusra Front remain prominent players in the Syrian free-for-all. Many of the groups have no sympathy for the US and, by extension, the troops it trains.
You can share this story on social media: