Chipotle sued over GMO-free claims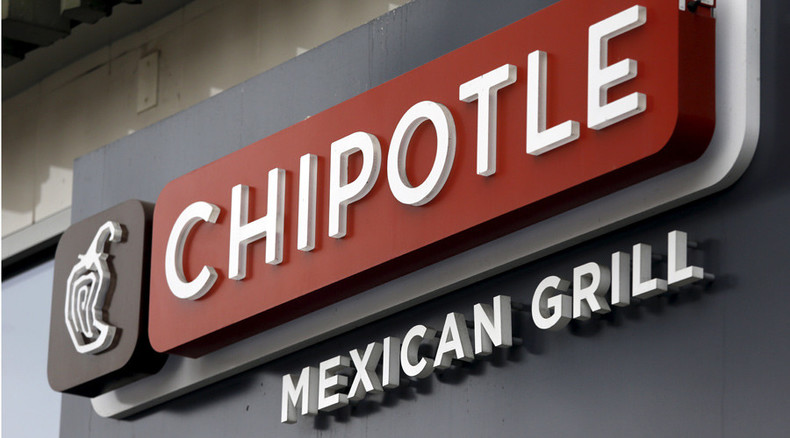 Alleging false advertising, a California woman has sued Chipotle Mexican Grill over the popular chain restaurant's insistence that its products do not include genetically modified (GMO) ingredients.
The lawsuit was filed by plaintiff Colleen Gallagher on Friday in a San Francisco federal court. Gallagher has alleged that Chipotle has violated the Federal Food, Drug and Cosmetic Act – which bans false advertising on food labels – and that the restaurant has deceived its visitors into paying more to eat its food.

"As Chipotle told consumers it was 'G-M-Over it,' the opposite was true," said Gallagher, of Piedmont, California. "In fact, Chipotle's menu as never been at any time free of GMOs."
The company's public statements do not match up with the reality of their food and drink ingredients, the lawsuit contends.
"Chipotle has carefully tailored its public image by marketing to healthy-lifestyle and environmentally conscious consumers that it knows are willing to pay premium prices for its food," the lawsuit says.
Chipotle spokesman Chris Arnold would not discuss details of the lawsuit, but said "we do plan to contest this."
In April, Chipotle announced it would become the first fast-food chain to ban genetically modified organisms (GMOs) from its food. Yet on the company website, there are disclaimers that outline what products sold at the restaurant are unavoidably not GMO-free, such as soft drinks. The feed eaten by animals that end up in Chipotle food was unlikely to be free of GMOs, as well, the site says.
"Chipotle was the first national restaurant company to disclose the GMO ingredients in our food, and now we are the first to cook only with non-GMO ingredients," the company says, while adding that corn and soy used in the restaurant's food is likely to be from GMO sources, given 93 and 94 percent of corn and soy, respectively, produced in the US in 2014 was genetically modified.
Gallagher says that visitors to Chipotle restaurants are not likely to see the disclaimers and will only know about the company through advertising.
"Chipotle only discloses this information on its website because it knows its fast-food customers never need to visit Chipotle's website to buy food," the suit states.
READ MORE: Taco Bell, Pizza Hut to remove artificial colors, flavors from food
The restaurant "takes no meaningful steps to clarify consumer misconceptions in its advertisements and on its billboards, both in stores and in print, which instead say 'all' of the ingredients used in its Food Products are 'non-GMO,'" the lawsuit says.
The lawsuit seeks class action status and unspecified damages.
A Colleen Gallagher who was represented by the same law firm sued Bayer AG in 2014, alleging that the pharmaceutical company misled consumers as to the health benefits of its One-A-Day multivitamins, according to Reuters. Earlier this month, a US judge blocked Bayer's attempt to have the suit dismissed.
In June, Chipotle was sued for allegedly using criminal background checks in the hiring process, which would violate the Fair Credit Reporting Act.

In 2013, the US Equal Employment Opportunity Commission sued the company over firing an employee based on her cystic fibrosis treatment needs. The case is still ongoing.
You can share this story on social media: