Texas A&M, FedEx lose radioactive material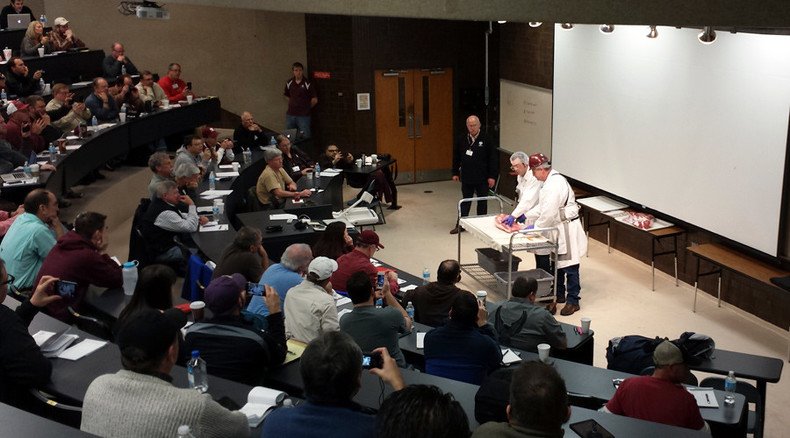 A package containing radioactive material sent via Federal Express to Texas A&M University has been reported missing by the school. The 27lb (12.2kg) package was signed for nearly two weeks ago, but the university says the relevant office didn't receive it.
On Friday, the university's Office of Safety and Security sent out an internal email seeking assistance in locating the package, according to KBTX. The medium-sized cardboard box -- each side measuring 20 inches in length -- was sent from Edina, Minnesota, by the Science Engineering and Education Company's radioactive material producer Ritverc.
"The outside of the package has a logo from RITVERC and has UN2910 marking," Christopher Meyer, an assistant with the school's Office of Safety and Security, wrote in the internal email.

UN2910 is a FedEx label designation for radioactive material, which the shipping company routinely handles, along with other hazardous items.

Meyer added that FedEx records show the package was signed for by a "KHOUSELY" on August 21, yet Texas A&M told KBTX that its Radiation Safety Office has not received the package.
READ MORE: Fukushima nuclear disaster: 'Radiation will wash down from mountains, forests into other lands'

In a statement released Monday, Texas A&M said that while finding the package is important because of the nature of its contents, the radioactive material inside is secure as long as it is not tampered with or disturbed.

"We obviously want to locate this package as quickly as possible because it does contain radioactive material, but we hasten to add it doesn't present a health threat to the community provided the contents, which are secured in a box with two layers of inner containment, are not disturbed."

Appropriate state and federal regulatory agencies have been notified, the statement added.
You can share this story on social media: