Child cancers 'attributable' to Fukushima disaster 'unlikely' to increase – IAEA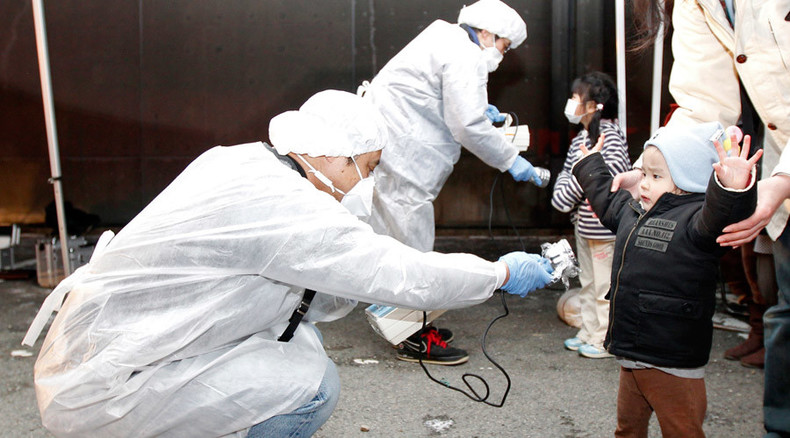 The IAEA remains certain that thyroid cancers among kids attributable to the Fukushina accident are unlikely to increase, while providing no conclusive data on the exact amount of radioactive exposure suffered by civilian population in the vicinity of the nuclear plant.
The IAEA Director General's Report on the Fukushima Daiichi Accident, admitted that "uncertainties remained concerning the thyroid equivalent doses incurred by children immediately after the accident."
The dosage received by children remains under question as during the March 2011 accident authorities failed to swiftly and uniformly distribute "stable iodine" due to "lack of detailed arrangements" and were generally unprepared for emergency responses to such large scale accident.
The administration of non-radioactive iodine is an urgent protective action to be taken when exposed to radiation, preventing or reducing the uptake of radioactive isotopes by the thyroid gland.
In addition, the report noted, there was not enough reliable personal radiation monitoring data immediately after the accident. The data gathered so far, the IAEA says, shows a very limited dosage of radiation exposure in children "attributable to the accident." Doctors began checking the thyroids of children in Fukushima Prefecture as early as October, 2011.
READ MORE: Fukushima radiation killing our children, govt hides truth - former mayor
"Because the reported thyroid doses attributable to the accident were generally low, an increase in childhood thyroid cancer attributable to the accident is unlikely," the report stated.
The report that consists of five technical volumes dealing with the 2011 nuclear meltdown, the worst emergency at a nuclear power plant since the Chernobyl disaster in 1986. It discovered "certain weaknesses" in the design of the Japanese power plant. Lack of authority and responsibility also played a role in crisis management.
"Responsibilities were divided among a number of bodies, and it was not always clear where authority lay," IAEA's Director General Yukiya Amano said.
IAEA also found "weaknesses" in emergency preparedness and response arrangements and in planning for the management of a severe accident.
"The possibility of several reactors at the same facility suffering a crisis at the same time was not considered. And insufficient provision was made for the possibility of a nuclear accident occurring at the same time as a major natural disaster," Amano said.
The report was based on the evaluation of data and information from a large number of sources available up to March 2015 and was a result a collaborative effort involving five working groups with about 180 experts from 42 Member States.
You can share this story on social media: