97 percent of DC police issue no-confidence vote in Chief Cathy Lanier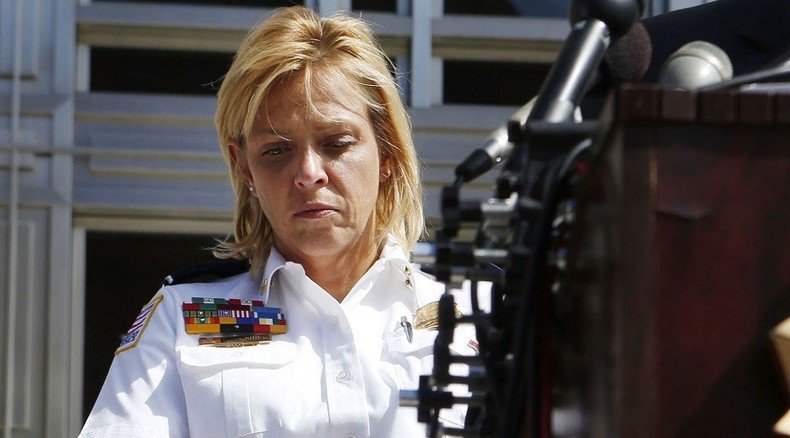 Nearly every member of the Washington, DC police union who voted declared that Metropolitan Police Department Chief Cathy Lanier isn't able to properly manage the force's resources and keep the citizens safe in a recent vote.
More than 1,100 District police officers voted this weekend in a survey conducted by an independent polling group that asked if they have confidence in Lanier, who has led the DC police department since 2007.
Only 28 members of the Fraternal Order of Police labor union expressed confidence in the chief and her policies, the FOP executive committee wrote in a statement about the vote. A total of 1,122 cast a no-confidence ballot in the online poll.
However, the union represents more than 3,600 police officers, sergeants and detectives out of the DC force's nearly 4,000 police officers.
Voting began Saturday, just hours after a double murder on Friday night brought the 2015 homicide count in the nation's capital to 105 ‒ equal to the total number of homicides in DC for all of 2014. FOP Secretary Marinos M. Marinos introduced the voting by blaming "poor management of MPD by the Mayor and Police Chief." The poll ended Sunday evening, and the union released the results on Monday.
"Wave after wave of widespread violence has shaken this city and time after time, our officers have been told to stand fast," the executive committee wrote in their statement. "We've been told that the status quo is working and we've been forced into a corner of lackluster, feckless, inefficient enforcement and been required to stand by and watch while the leaders of the department doubled-down on their stop-gap, gimmicky tactics."
The union leadership noted that the FOP "has been frustrated with the leadership of MPD for years" due to a myriad of contractual and strategic complaints, including "impotent and ineffective policing strategies, disbanding of the most effective units, gimmicky deployment, toxic management... and an inability to fundamentally keep our neighborhoods, our citizens and our officers safe."
Despite the no-confidence vote, DC Mayor Muriel Bowser expressed support for Lanier on Monday.
"After 25 years of policing DC streets, deploying officers and strategies, and building a force of highly qualified officers and leaders, in the good times and the tough times, too, I have every confidence in Chief Lanier," she said in a statement.
Bowser and Lanier both blame the violence on an increase in synthetic drugs, as well as repeat violent offenders being involved in new crimes.
"We're seeing a dramatically increasing number of people who are out on community release, under supervision, that have long,violent histories who are continuing to commit crime," Lanier said Friday in an interview with WAMU.
Lanier called into question the timing of the vote, which occurred during the department's first "All Hands on Deck" of the year. Over the course of the weekend, DC police recovered 21 illegal guns and arrested 16 people for possessing the illicit firearms.
"I realize that officers don't like their schedules disrupted and I try to minimize it, but when we have violent crime we have to make the sacrifices that we all swore we would make when we took this job," Lanier said in a statement released before the results of the vote were made public.
The All Hands weekend began Friday, just one day after Bowser outlined her "Safer, Stronger DC" plan that called for increased police patrols, focusing on repeat violent offenders, increasing penalties for violent crimes committed on public transportation or in parks and recreation centers, incentivizing businesses to put up security cameras, implementing a new grant program for community non-profits, narrowing the definition of assault on a police officer, and repealing some traffic violations that are often seen as pretexts for a stop.
This was the first no-confidence vote of Lanier's tenure as chief. She has spent her entire career with the MPD.
You can share this story on social media: