California blows past conservation goal, cuts water use by 31%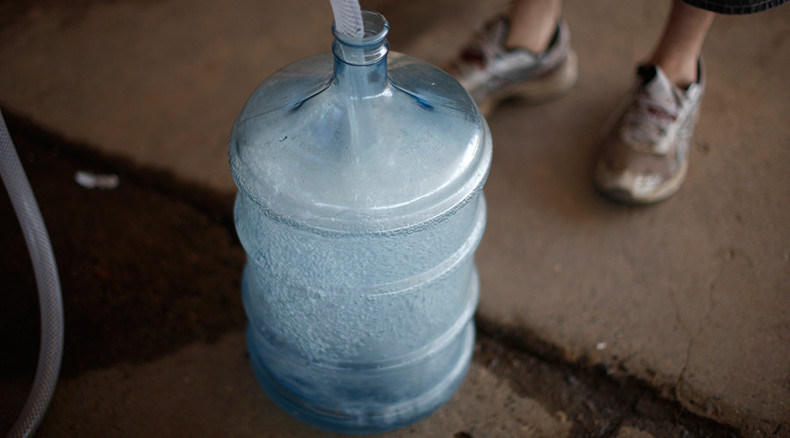 Facing a severe four-year drought crisis, residents of the Golden State have responded to the governor's call to limit water use, outstripping his original conservation target by 6 percent.
Cities across California cut their water use by a combined 31 percent in July. The new mark trounces the 25 percent water saving goal Governor Jerry Brown set when he declared a state drought emergency in April. Under that order, each community had nine months to hit assigned conservation targets, and cities that failed to hit those marks were threatened with state-ordered conservation measures and fines.
July was the second straight month that residents met the conservation mandates without the state imposing fines. In June, the water conservation rate was 27 percent.
State officials say the strong figures show residents are beginning to understand the dire need to cut back on water use due to the drought.
"This isn't your mother's drought or your grandmother's drought," Felicia Marcus, chair of the state water board, told the Associated Press.
The state water board issued figures for each community. Some 290 water suppliers serving 29 million people met or exceeded their conservation goal in July, an increase from 265 in June, officials reported.
Los Angeles exceeded its target by saving 21 percent, more than the 18 percent mandated. San Francisco achieved a 17 percent savings, San Diego used 29 percent less water, San Jose consumed 38 percent less, and Fresno conserved 31 percent.
Officials said July rains in Southern California might have played a role in some of the savings since people didn't need to water their gardens, but enforcement and messaging were also contributors.
"We have a movement in urban California," said Marcus told the AP.
That movement is leading to programs that include installing efficient toilets and showerheads, and ripping out lawns.
Residents are increasingly turning to water recycling systems that enable the reuse of so-called "gray water" from bathroom sinks, bathtubs, showers and washing machines. This water is then taken for use in irrigation and garden watering.
Water managers and environmentalists are also pushing systems that convert sewage effluent into heavily-treated purified water.
Meanwhile, in early August, Los Angeles dropped 96 million "shade balls" into the 175-acre Van Normal reservoir in order to preserve its water supply. According to officials, the balls prevent evaporation.
"By reducing evaporation, these shade balls will conserve 300 million gallons of water each year, instead of just evaporating into the sky. That's 300 million gallons to fight this drought," Los Angeles Mayor Eric Garcetti said, as quoted by KABC News.
"That's enough to provide drinking water for 8,100 people for a full year," Councilman Mitch Englander said, according to a Los Angeles Department of Water and Power (LADWP) press release.
In the state's south, San Diego County is investing in the Carlsbad Desalination Project, due to come online later this year, that would provide 10 percent of the region's drinking water, according to the project's website. Currently, the county imports 90 percent of its water.
"The fact is that this is one of the largest environmental social engineering experiments, if you will, in American history," Mark Gold, associate vice chancellor of environment and sustainability at the University of California, Los Angeles, told Al Jazeera America.
"People are seeing that it's their responsibility for everyone to do their part. Or at least a lot of people are."
You can share this story on social media: