Police name suspect arrested in killing of Jamyla Bolden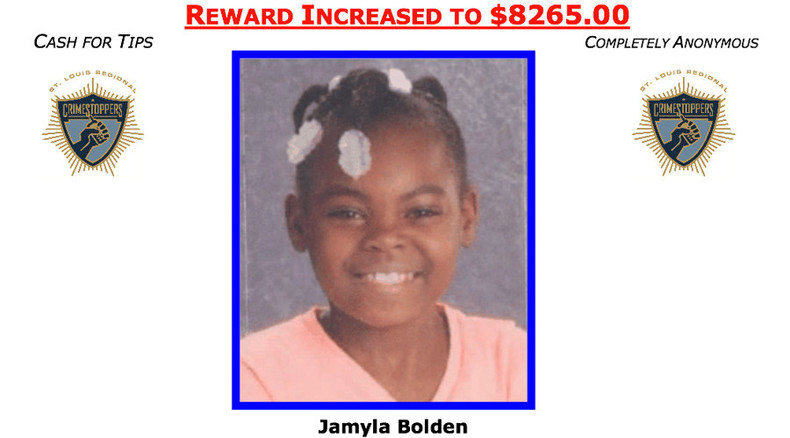 Police in St. Louis County have arrested a man on suspicion of killing the 9-year-old Jamyla Bolden in Ferguson. Court documents show De'Eris Brown, 21, has confessed to the killing.
Brown has been charged with three counts of armed criminal action, and two counts of unlawful use of a weapon, including second degree murder. He is being held on a $750,000 bail, local media report.
St. Louis County detectives and US Marshals made the arrest late Wednesday at an area hospital, reported the St. Louis Post-Dispatch.
Bolden was at her grandmother's house on the evening of August 18, when she was struck by a bullet fired at the house, on the 9200 block of Ellison Street in Ferguson, Missouri. She died in her grandmother's arms. Kendric Henderson, the girl's mother, was shot in the leg but made a full recovery.
Community leaders and Bolden's relatives have urged the area residents to call the police with any information that could help with the arrest.
"We need justice for this little girl," said Bolden's cousin April Cooks at the vigil held on August 20. "For those of you that might know something, think about how the man walking around here can do it to your child. Think about what you are keeping to yourself."
Anthony Shahid, a noted Ferguson community activist, also had a message for the killer. "You took the life of a little baby that was doing her homework. We can't let you do this," he said at the vigil. Shahid also pledged to mobilize the local residents to "take back the streets" from the criminals.
"If the police shoot us, we're gonna address it – but if you shoot us, we're gonna address you too," Shahid said. "What we cannot do in this community is allow this kind of devastation on our families."
The reward offered by CrimeStoppers for any information in the case was at $8,265 as of Wednesday. The initial $5000 reward by the authorities was augmented by a $1000 donation from the Fraternal Order of the Police, and $2265 from private donors who wished to remain anonymous.
Bolden's funeral is scheduled for Saturday, August 29.
Earlier this week, a 21-month-old boy was killed in a suspected drive-by shooting at the St. Louis neighborhood of Hanley Hill.
You can share this story on social media: