What about Jamyla? Lack of activism after Ferguson death draws criticism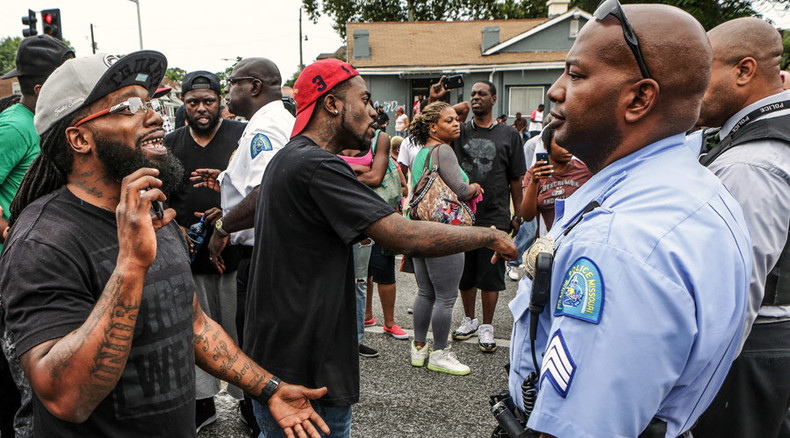 While the police shooting of a suspect in a drug raid caused a violent protest in St. Louis, the death of a 9-year-old girl in Ferguson did not. The different response has prompted questions in the Ferguson community as well as the social media.
Jamyla Bolden was staying with her grandmother, doing homework in the bedroom, when an unknown assailant fired several shots into the house. Her mother, 34, was struck in the leg, but is expected to make a full recovery. Jamyla, however, died in her grandmother's arms.
"I was holding her the whole time," the grandmother told the St. Louis Post-Dispatch. "I kept holding and holding her. I still have her blood on my hands. She was still breathing. I was telling her to just breathe."
It was the killing of Mansur Ball-Bey by police, however, that sparked a protest on Wednesday. Ball-Bey, 18, was shot during a raid on a suspected drug house. According to the police, two suspects attempted to escape when officers arrived with a search warrant. Ball-Bey reportedly turned around and pointed his weapon at the officers. He was shot four times. The other suspect got away. The police said Ball-Bey had a stolen gun, and that they retrieved three more guns and an unspecified amount of crack cocaine at the house.
Ball-Bey was African-American. The officers who shot him are white.
READ MORE: Tear gas & 'flaming barricade': Protesters confront St. Louis cops over fatal shooting
Some 150 protesters gathered following Ball-Bey's death, and threw rocks and bottles at the police who arrived with riot gear and armored vehicles to clear the road. By Wednesday evening, a car and a house had been set on fire, along with mattresses set out as makeshift barricades, as police fired tear gas and arrested 9 of the protesters.
Outlining Wednesday's events in a series of tweets, St. Louis Alderman Antonio French blamed the police for deploying armored vehicles and tear gas. He said that initial reports of the incident were inaccurate, though, as many protesters "arrived angry because they heard a 13-year-old kid was killed."
His advice to the police was to block Page Street and "let them have the street for a few hours."
No one trusted the police account, French said, but "several people I talked to did say that the house was a known dope spot."
Other activists present at the protest also accuse the police of being too aggressive.
"There has to be a better way, but the better way is not to terrorize an already terrorized community," Rev. Renita Lamkin, a frequent presence at protests in nearby Ferguson, told the Post-Dispatch. "How they deal with the situation is classist and dehumanizing. The people here don't matter as much to them."
News of Jamyla Bolden's death traveled across Twitter far slower than news of Ball-Bey's shooting. Some people were quick to hold it up as an example of protesters' hypocrisy.
Among those who pointed out the disparity in response to the two deaths was African-American writer Torrance Stephens.
Bolden's grandmother declined to give her name "because she feared for her safety," the Post-Dispatch noted in their report. Her house is one block away from West Florissant Avenue, where protesters have gathered in Ferguson since last August's police shooting of Michael Brown. According to the paper, the house next door has a "We Must Stop Killing Each Other" sign on its front lawn.
"There needs to be a reevaluation of human life: black, white, young, seasoned, whether in Ferguson, or areas considered affluent," Pastor Willis Johnson told KMOV. "This has to stop. This epidemic of lost life under false pretense and of no real significant reason has to change."

On Thursday, Ira DeWitt, the wife of St. Louis Cardinals' owner Bill DeWitt III, announced that she would pay for Jamyla's funeral expenses.
St. Louis police reported that 69-year-old Alfred Rogers was killed on Wednesday night, when two bullets struck his car in the northern part of town. His passenger was not injured. The attack seemed to be random. Rogers' death was at least the 130th homicide this year in St. Louis.