Televangelist politician Pat Robertson blames Black Monday on US support for abortion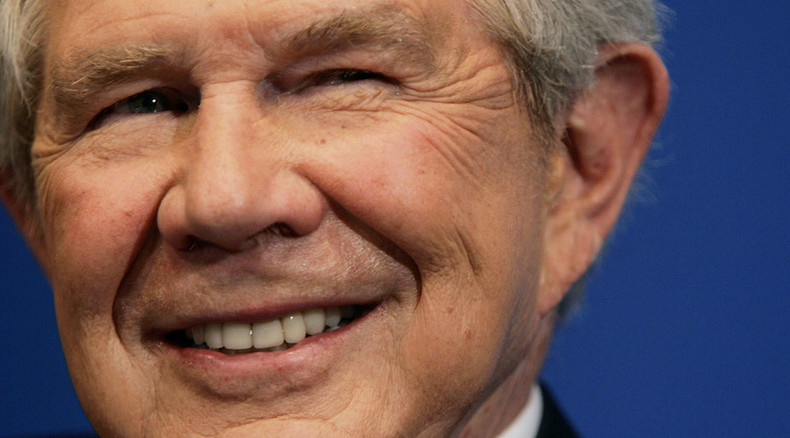 As the effects of Black Monday in China were felt across the globe, one American politician thinks he knows what is causing the economic instability. Christian conservative Pat Robertson believes it was due to the US government's support for abortion rights.
The former Republican presidential candidate was in defiant mood, saying that the move by the US government to fund Planned Parenthood, which supports and funds women's right to have abortions, was somehow the real reason behind the stock market crash.
"We will pay dearly as a nation for this thing going on," he warned. "And possibly if we were to stop, stop all of this slaughter, the judgment of God might be lifted from us. But it's coming, ladies and gentlemen. We just have a little taste of it in terms of the financial system," Robertson said, on the 700 Club program, which is broadcast on the Christian Broadcasting Network, which he founded in 1960.
"But it's going to be shaken to its core in the next few months, years or however long it takes, and it will hurt every one of us. It's coming down the road. But at least we could repent and try to change."
Planned Parenthood has been hit by numerous scandals in recent weeks after secret videos allegedly showing the sales of body parts from aborted fetuses provoked calls to defund the birth control clinic chain. However, federal officials warned the states that cutting off Medicaid funding to Planned Parenthood might violate federal laws.
Several Republican presidential hopefuls have called for cutting some $500 million in federal funds to Planned Parenthood, after the conservative activist group Center for Medical Progress posted a series of undercover videos showing what they claim is a practice of trafficking in aborted fetal tissue.
Robertson has a well-worn reputation for courting controversy during his career.
Just three days after the September 11, 2001 terrorist attacks on the US, Robertson and another member of the religious right, televangelist Jerry Falwell, claimed that civil liberties groups, feminists, homosexuals and abortion rights supporters bore partial responsibility for the atrocities because their actions had turned God's anger against the US, the Washington Post reported.
In 1995, Robertson denounced Hinduism as "demonic" during an appearance on the 700 Club. He characterized the religion as "having evil tendencies toward random spiritual worship and polytheism," while added that the US should do all it could to try and keep Hindus from entering its borders.
You can share this story on social media: