'Shocking' death of 30 whales off Alaska could be linked to toxic bloom – scientist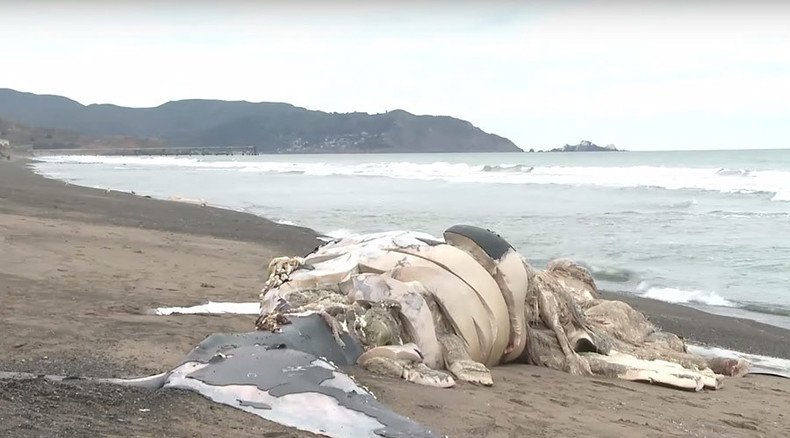 The death of 30 whales off the coast of Alaska may be linked to a rapid growth of toxic phytoplankton in the local marine environment that can paralyze as well as kill, a University of Alaska scientist told RT.
While a federal investigation has been opened into the giant mammals' mysterious demise – a situation that's been labeled an "unusual mortality event" – one of the leading theories is that an algal bloom is to blame, as they have been the cause of many similar events in the past.
"It's a bloom of phytoplankton in the ocean that actually releases toxins," Dr. Bree Witteveen, a marine mammal specialist at the University of Alaska, told RT. "Those get accumulated into various preys and it works its way up the food chain, and can cause paralysis and death."
She added that these whales were not beaching themselves, but had died at sea and were washed ashore. It's not exactly surprising for dead whales to wash ashore, but the number of instances recorded this year is particularly unusual.
"We always see a handful of carcasses every summer, and that is sad in itself, but when you see so many animals in such a short period of time it is quite shocking, and frustrating, that we can't get a better understanding of what did occur," Witteveen said.
Scientists are currently trying to access and inspect the carcasses of the whales, though simply reaching the bodies is a challenge because of their location. Alaska's shores are rocky and dangerous to traverse, requiring additional manpower and funding to navigate
Since May, 11 fin whales, 14 humpback, one gray whale, and four unidentified marine mammals have been discovered around the islands in the western part of the Gulf of Alaska and along the southern shoreline of the Alaska Peninsula. The deaths represent a threefold increase in the normal number of such occurrences for the region, according to the National Oceanic and Atmospheric Administration (NOAA).
By designating the strandings as an unusual mortality event, the NOAA will be able to partner with other federal, state, local, and tribal agencies to craft a response plan in the form of a scientific investigation into the causes of death. The US government defines an "unusual mortality event" as an unexpected string of casualties having a significant impact on a population requiring swift action.
"NOAA Fisheries scientists and partners are very concerned about the large number of whales stranding in the western Gulf of Alaska in recent months," Dr. Teri Rowles, NOAA Fisheries' marine mammal health and stranding response coordinator, said in a statement.
"While we do not yet know the cause of these strandings, our investigations will give us important information on the health of whales and the ecosystems where they live. Members of the public can greatly assist the investigation by immediately reporting any sightings of dead whales or distressed live animals they discover."
The investigation will first attempt to determine the cause of death for the 30 whales. Scientific examinations of this nature take months, and even years, to conduct the NOAA said. The agency said it will gradually post its findings on its unusual mortality event website.
The whale die-off was determined to be an unusual mortality event by analysts form the Working Group on Marine Mammal Unusual Mortality Events, established in 1991 as part of the Marine Mammal Protection Act of 1972. Since 1991, 61 such events have been declared, and 29 cases solved. Causes include infections, biotoxins, human interactions, and malnutrition.
The most recent unusual mortality event involved 60 Bottlenose dolphins found dead in 2013 around the Mid-Atlantic region. That same year, 59 Bottlenose dolphins died on the east coast of Florida. The causes of those events remain undetermined.
"Understanding and investigating marine mammal UMEs is important because they can serve as indicators of ocean health, giving insight into larger environmental issues which may also have implications for human health and welfare," according to the NOAA.
You can share this story on social media: