New app kills online ads by buying banner space & substituting pretty pictures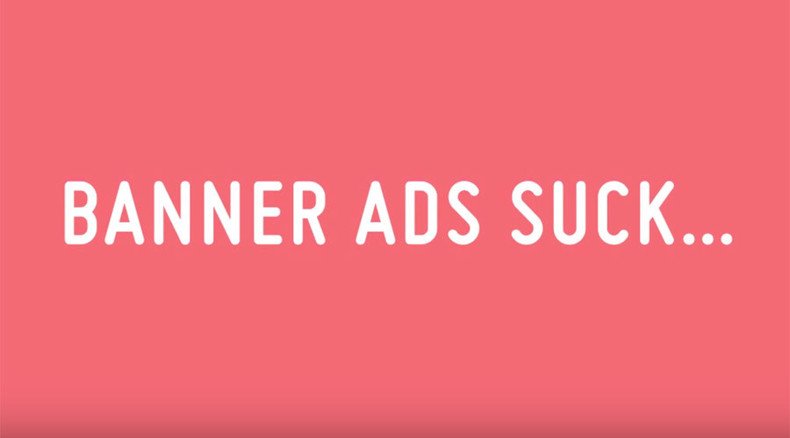 Several years ago, the world suddenly woke up to ads being plastered all over its internet browsers, as companies looked for new ways to make a buck. But now, one app says – "No more!" and offers to substitute them for pictures instead.
Along comes 'Adieu' – the aptly named app from Fair Tread, a company that wants to give some semblance of online control back to the user. Don't want a reminder about an expensive Caribbean vacation when you're cash-strapped and breaking your back at work? Don't care about online trading, or taking personality surveys? Or discovering which celebrities have had plastic surgery?
Adieu's solution is nice and simple: it lets you block annoying banners with photos and pictures of your choice. It offers to do this for a fee of $5 per 500 ad blocks, and will attempt to block as many ads as possible. The page says "by using Adieu, you're contributing to a fair internet that rewards good content."
There are downsides and upsides, depending on one's personal ideology. Adieu wants to continue supporting the ad creators who annoy you in the first place – you'll just be snapping the space up for yourself. But, if ignorance is bliss, then you should "raise your banner today" and even earn $2-worth of free credit to get you started.
Adieu's creator Matt Mankins told Wired, "I'm basically hacking that system."
Mankins is more forgiving to the creators of ads than your ordinary rebel: "I look at ad-blocking like a protest technology," he explains for the benefit of those who are in this to buck the establishment.
This is not an extension. Adieu works by using your browser cookies to identify you as one of our users. This lets us...

Posted by Adieu on Thursday, 25 June 2015
Mankins is worried that with a more than 40-percent increase in ad-blocking software in the past year, good content would simply vanish, as it would have no means of sustaining itself.
The mechanism is more complex than it seems at first. It's now common knowledge that we have something called targeted advertising that mirrors a person's browsing habits. There is also fixed advertising, if you're a giant software company, for instance.
Adieu works more by bidding – not buying. In actuality, banner spaces are pretty cheap when companies buy them in bulk. Adieu just makes a bigger bid with your money by purchasing individual spaces and, in most cases, winning. That money then goes to the ad creator, compensating them for their troubles.
An algorithm then gets to work picking and matching the format and size of a banner with the photos a user uploads, cropping them if necessary.
However, a whole host of ads don't make the cut: Facebook, Google search and Gmail, for instance, are simply too rich for you to do anything about. Safari browsers on Macs are also immune to Adieu's bidding. But for Mankins, it's more about trying to lighten up the mood as often as possible – not taking on the leviathan.
As Adieu puts it – "it pays to pay." There's a bit of psychology involved: the user isn't purchasing a product, but "could create real felt value for consumers," Mankins explains.
Speaking of ads, Yahoo just learned first-hand what "maladvertising" means.
READ MORE: Yahoo ads compromised by hackers for a week in record attack
The company's ad network fell victim to hackers using the ads to attack the estimated 100 million users who go to the search giant for news. Beginning on July 28, malware started to be distributed by way of Flash – the most ubiquitous technology in use today to make stuff move on your screen.
Google also fell victim to a large maladvertising attack earlier this year. Hackers were found to be using Google's advertising service, DoubleClick, to launch attacks on visitors from other websites. Google responded by announcing it would encrypt all DoubleClick ads. Yahoo followed suit in April, arming its Yahoo Mail with end-to-end encryption.
The king of social media – Facebook – itself was fixing what it called a "bug" earlier in April, when the website just started researching users' browsing habits whenever they visited a website using Facebook's technology. This concerned those who weren't even members. Facebook was heavily criticized for basically turning into an "advertising network" following its new policies – allegations its European policy chief strongly denied.
You can share this story on social media: