650k solar panels: US Navy agrees to largest-ever federal gvt renewable energy deal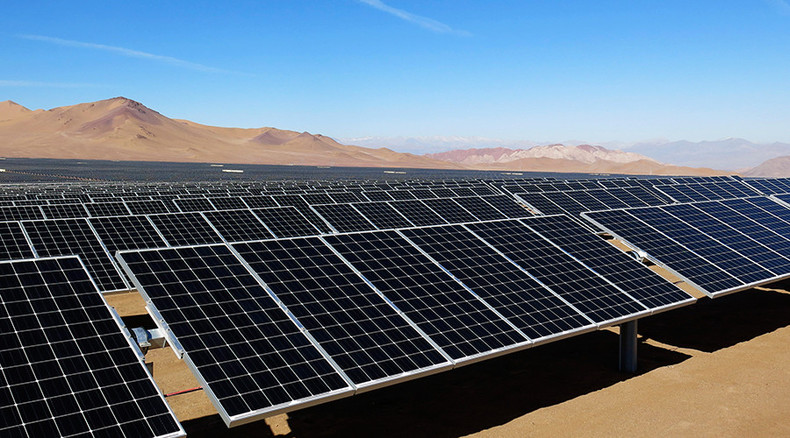 The US Navy has announced that construction has begun on a 210-megawatt direct current solar facility in Arizona that is planned to provide a third of the energy needed to power 14 Navy and Marine Corps installations in California.
The Mesquite Solar 3 project will employ 650,000 photovoltaic panels on ground-mounted, horizontal single-axis trackers located 60 miles west of Phoenix, Arizona.

The project is expected to be completed by Sempra U.S. Gas & Power by the end of 2016, according to the Department of the Navy (DON).
"The collaboration on Mesquite Solar 3 is a triumph of innovative problem solving, and will help to increase the DON's energy security by diversifying our power portfolio and improving energy efficiency," said Ray Mabus, secretary of the Navy. "This agreement is also projected to save the DON at least $90 million over the life of the project."
Six Marine installations and eight Navy installations in California will benefit from the project, which will create 600 construction jobs, according to the Navy.
The financial terms of the agreement have not been made available.
READ MORE: Green war games: NATO to test renewable energy for battlefield, humanitarian ops

The US Department of Defense is in the process of procuring 25 percent of its energy usage from renewable sources by 2025. In addition, Sec. Mabus called on the Navy to meet the goal of procuring one gigawatt of renewable energy by the end of 2015. Mesquite 3, coupled with current solar facility projects in North Carolina and Georgia, will eventually provide 1.2 gigawatts of energy, according to the Navy.
Mesquite Solar 3 will also allow the Navy comply with California's Renewable Portfolio Standard, the Navy reported.

Sempra was selected for the 25-year contract by the Navy and Western Area Power Administration in July.
You can share this story on social media: