Solar panels can power the world – MIT study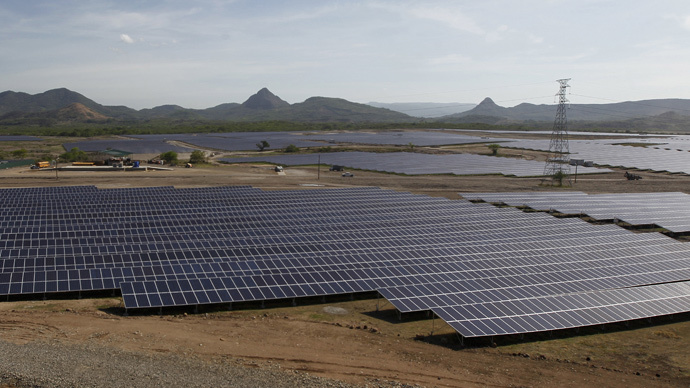 An MIT report has found that regular solar panels like the ones used today could supply much of the world with power. They believe terawatts of energy could be produced by 2050 and say that investment, not technology, could be the biggest hurdle.
The world's population currently consumes 15 terawatts of power from various energy sources, according to the Economist. Despite making up less than 5 percent of the world's population, Americans use 26 percent of the world's power.
The publication, by the Massachusetts Institute of Technology, shows that no revolution in solar energy needs to take place, as scientists already have everything they need to harness the energy of the sun and turn it into electricity, though minor tweaks may help to improve efficiency.
The US, for example, generates less than 1 percent of its energy from solar power. This is something the researchers are looking to change.
Report from @mitenergy outlines pathways to affordable #solar energy http://t.co/wABj5oXXZcpic.twitter.com/1GaW816cr2

— MIT (@MIT) May 5, 2015
"Our objective has been to assess solar energy's current and potential competitive position and to identify changes in US government policies that could more efficiently and effectively support its massive deployment over the long-term, which we view as necessary," Robert Armstrong, the director of MIT Energy Initiative, said in a statement.
The Topaz solar farm in California went online at the end of 2014. It generates 500 megawatts of energy, which is enough energy to power at least 160,000 homes. A terawatt is 1 million megawatts of energy.
READ MORE: UK to import Tunisian sunshine in solar project
The company behind the project, First Solar, uses 9 million solar panels to generate electricity. Crucially, it also eliminates over 350,000 tons of CO2 every year, Techspot reports.
"Solar electricity generation is one of very few low-carbon energy technologies with the potential to grow to very large scale. As a consequence, massive expansion of global solar generating capacity to multi-terawatt scale is very likely an essential component of a work-able strategy to mitigate climate change risk," the MIT report said.
The study has emphasized the need for more research at a federal level, as well as more development support to help to advance low cost and large scale electricity storage technologies.
Battery technology is expected to be a crucial part of the future development of solar power energy, as the batteries can be used to store electricity during peak production and then dispense it at times when there is no sunshine.
The CEO of Tesla industries, Elon Musk, has been a big advocate of trying to develop better batteries that could help to store electricity.
"Our goal here is to fundamentally change the way the world uses energy," Musk said on April 30, Bloomberg reported. "We're talking at the terawatt scale. The goal is the complete transformation of the entire energy infrastructure of the world."
READ MORE: Solar energy now same price as conventional power in Germany, Italy, Spain - report
The ability to get funding is out there. For example, the International Monetary Fund has calculated that the fossil fuel industries are receiving $5.3 trillion a year in subsidies, which is the equivalent to $10 million every minute. This is a figure that those looking to promote solar power can only dream of.
The authors of the MIT publication believe that the production of solar power will only increase if carbon dioxide emissions become costly. They admit this is unlikely to happen without a drastic rethink in US government policy.
"The main goal of US solar policy should be to build the foundation for a massive scale-up of solar generation over the next few decades," the report said.
The researchers point to the example of Germany as a standout in pursuing green energy. In 1991, Berlin adopted a Feed-in Tariff scheme which was a rebate scheme to encourage the production of low carbon source energy.
The scheme was so successful that by 2013 Germany was producing 45 percent of solar energy in the EU, and 27 percent of solar energy around the globe, despite the fact that the country is not renowned for having a year-round sunny climate.
You can share this story on social media: