Americans disapprove of Obama on Iran, ISIS and foreign affairs – poll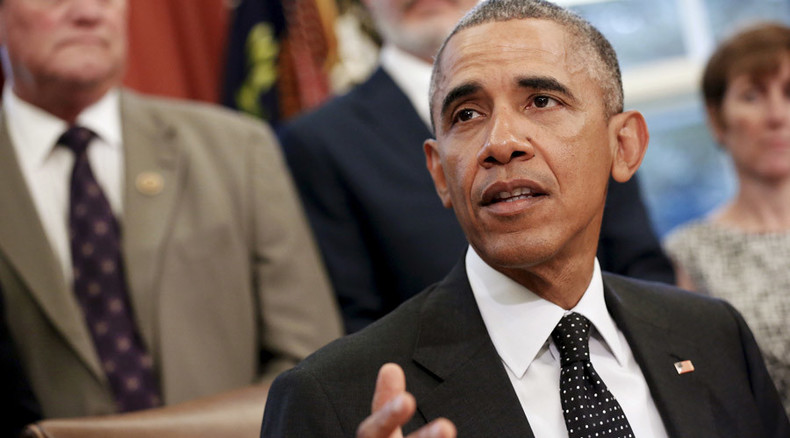 Support for President Barack Obama's policies is slipping again, with a new poll showing that a majority of Americans disapprove of his handling of Iran, ISIS and foreign affairs, and believe he is taking the US in the wrong direction.
According to the newest CNN/ORC International poll, 51 percent of respondents now disapprove of Obama's presidency, while the approval rate slipped to 47 percent. At the end of June, following the Supreme Court's verdict favoring the president's healthcare law and position on gay marriage, Obama's approval rate climbed to 50 percent for the first time since 2013.
The "general sense of pessimism is increasing," wrote CNN, noting that 52 percent of the respondents said things were going badly in America. Only seven percent believed the country to be doing "pretty well."
More than half the polled Americans disapproved of Obama's handling of foreign affairs in general (56 percent), and Islamic State in particular (62 percent), the US relationship with Iran (60 percent). Overall, 52 percent of the respondents believed the country was headed in the wrong direction, while 45 disagreed.
The Republican leadership in Congress, however, shows even less support, with 55 percent of the respondents believing they were taking the country in the wrong direction, and only 39 percent favoring their current policies.
The poll also underscores the deep partisan divide in the US. While Obama's approval among the Democrats has gone up a point to 85 percent since July, and the independents held steady at 42 percent, disapproval among the Republicans rose by seven points to 89 percent.
One in three Democrats disapproves of Obama's handling of Iran, while 35 percent think that he could be doing better at fighting Islamic State (IS, also known as ISIS/ISIL). Less than a quarter of Democrats disapprove of Obama's foreign policy in general.
A recent Gallup poll showed disapproval for Obama's policies towards Iran, IS and foreign affairs in general at 55 percent overall, with only 33 percent backing the president on the nuclear deal with Iran. Only one in ten Republicans backed the deal, while 56 percent of the Democrats were in favor.
The partisan gap is also evident when it comes to closing the prison camp in Guantanamo Bay, or sending ground troops to fight Islamic State militants. Closing Guantanamo is supported by 60 percent of Democrats, but opposed by 76 percent of Republicans and 53 percent of independents.
Republicans are increasingly backing the use of US ground troops to fight IS in Iraq and Syria: current support is at 68 percent, from 56 percent in May this year. Most Democrats (68 percent) and independents (51 percent) are opposed. While 51 percent of overall respondents are opposed to sending ground troops to fight IS, 75 percent now believe it "likely" that this will eventually happen.
While Obama's ratings have come a long way down since the 76 percent approval in February 2009, one CNN producer noted that he was still doing better than George W. Bush or Ronald Reagan at this point in their presidencies.
The poll is based on a random sample of 1001 adult Americans, interviewed by landline and cell phone between August 13 and 16, with a margin of sampling error at plus or minus 3 percentage points.
LISTEN MORE:
You can share this story on social media: