TSA spent $160 million on body scanners – report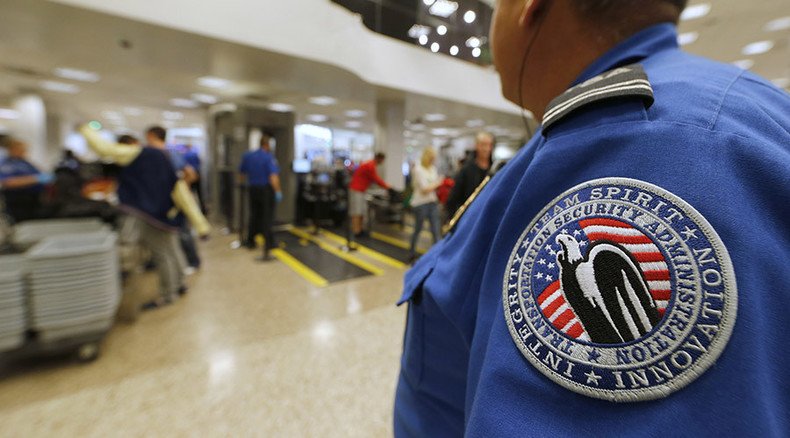 The TSA has spent over $160 million on body scanners at US airports since 2008, according to a classified audit leaked to the public. The agency has been under increased scrutiny by Congress over its failure to detect threats during secret internal tests.
Politico obtained the figures from reports which the Transportation Security Administration (TSA) recently submitted to lawmakers as part of the ongoing congressional audit. The process began in June, when it was made public that the agency's "red team" successfully defeated security measures in 67 out of 70 attempts. Acting TSA director Melvin Carraway resigned following the revelations.
Some $40 million was spent on the so-called "naked scanners" that used low-level X-rays to reveal the passengers' most intimate details but were easily fooled into missing explosives or weapons. TSA discontinued the use of the unfortunately named Rapiscan devices in early 2013.
The TSA has spent another $120 million on millimeter-wave scanners manufactured by L-3 Communications, paying over $150,000 per unit since the first batch was purchased in 2008. While those scanners are still in use, the lawmakers remain skeptical about their effectiveness.
Texas Republican Mike McCaul, chairman of the House Homeland Security committee, confirmed that the L-3 body scanners were singled out as a problem in the TSA audit, saying that "the technology failure was a big part of the problem."
His Senate counterpart, Wisconsin Republican Ron Johnson, suggested that body-imaging devices should be complemented by metal detectors.
"If you really want to keep using those, and I'm not saying we shouldn't, at a minimum we should put a metal detector on the other side" Politico quoted Johnson as saying. "Why not go through two? You've just gotta use common sense."
While the TSA refused to comment on specific procedures citing security concerns, the agency did issue a statement saying it was taking steps to improve screening effectiveness and detection standards of screening equipment. All TSA officers will also receive new training in an effort to improve performance.

Although the first body scanners were introduced in 2008, they were deployed in large numbers two years later, after the "underwear bomber" incident on a flight from Amsterdam to Detroit in December 2009. The X-ray scanners were blasted almost immediately as a health risk and a trampling of civil liberties.
READ MORE: 'Useless' TSA scanners provided endless fodder for employees, former agent alleges

In January 2014, Politico published an article titled "Dear America, I saw you naked," in which former TSA employee Jason Harrington accused the agency of wasting money and resources on the X-ray scanners knowing full well they did not work.
"The scanners were useless," Jason Harrington wrote. "The TSA was compelling toddlers, pregnant women, cancer survivors – everyone – to stand inside radiation machines that didn't work... behind closed doors, supervisors instructed us to begin patting down the sides of every fifth passenger as a clumsy workaround to the scanners' embarrassing vulnerability."
"The only thing more absurd than how poorly the full-body scanners performed was the incredible amount of time the machines wasted for everyone." – Jason Harrington
While the scanners did not help TSA agents actually detect any dangerous substances or weapons, Harrington wrote, they did provide the agents with titillating images of fellow citizens, stripped naked by the invasive technology.
"Many of the images we gawked at were of overweight people, their every fold and dimple on full awful display," he wrote. "All the old, crass stereotypes about race and genitalia size thrived on our secure government radio channels."
READ MORE: Excessive yawners, beware! Leaked TSA document reveals list of suspicious airport behavior

Congressional scrutiny of TSA ramped up in March this year, after leaks to the public about the agency's Behavior Detection program and an incident when a convicted domestic terrorist was waved through expedited screening.
TSA's Chief Risk Officer, Ken Fletcher, told lawmakers at the time that perfect security was unattainable, and that trying to eliminate all risk "results in poor security, unnecessarily burdens the aviation industry, and will create greater pressure on civil rights and liberties."
You can share this story on social media: