Alaska man dons costume to harass bears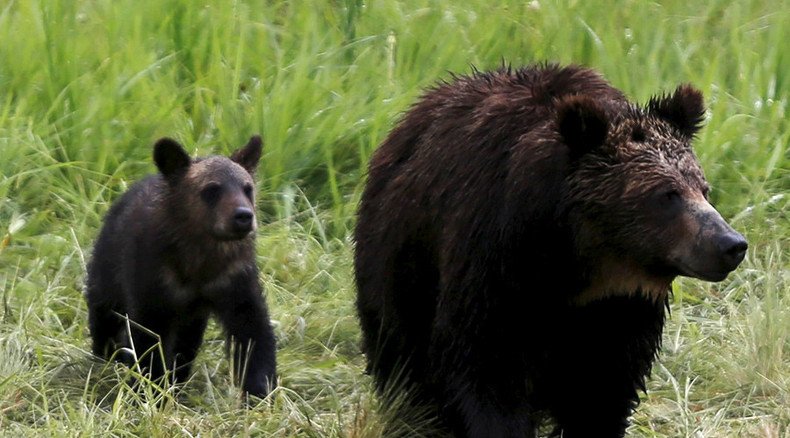 Authorities in Alaska are looking for a man who put on a "realistic" bear costume and pestered a female bear and her two cubs as they were fishing for salmon.
The man was spotted on Monday evening by a crowd that assembled to watch the bears at Chilkoot River near the town of Haines in the southwestern part of the state. The bear family has been frequenting the river during the salmon season, which runs from May to September.
A man dressed in "a bear outfit" ran through the area, jumping up and down and coming to within five feet of the cubs, biologist Mark Sogge told AP.
Sogge and his coworkers from the Alaska Fish and Game department were on location to keep track of the number of fish swimming upriver to their spawning grounds. Having to deal with bears – or men in bear suits – was a bit outside their job description.
"Our job is to count fish," Sogge said.
Alaska Fish and Game technician Lou Cenicola tried to talk to the costumed intruder after moving the bear and the cubs away to insure his safety, but the masked man refused to identify himself or state his purpose.
"You have the license plate number. You figure it out," he told Cenicola, according to Sogge. He then drove off without revealing his face.
Sogge and his colleagues gave the man's license plate number to the Alaska State Police. Spokeswoman Megan Peters said the troopers were investigating and, if warranted, the man could face charges of wildlife harassment.
"This is not the first time we've encountered a man in a bear suit," Peters said. Several years ago, such a man was arrested during the forest fair in Girdwood, just south of Anchorage. The arrest was filmed by the National Geographic reality show 'Alaska State Troopers.'
Though successful, the show was put on hiatus last summer after two troopers, who had starred in several episodes, were shot to death in a remote fishing village.
Alaska is home to an estimated 30,000 brown bears, including grizzlies and Kodiaks. While a major tourist attraction, they are dangerous when provoked or when someone threatens their cubs.
Just last week, an Anchorage jogger was injured when she ran into an adult grizzly bear on a Kenai Peninsula forest trail. Gabriele Markel, 20, survived, but with "lacerations and punctures on her head, arm and back," reported the local station KTVA.
Bear enthusiast Timothy Treadwell spent 13 years camping with the grizzlies in Alaska. He was killed and eaten by a bear in October 2003. His death inspired a critically acclaimed 2005 documentary, 'Grizzly Man.'
You can share this story on social media: