Ferguson's 'Lost Voices' camp out over a year to push peace, protest police brutality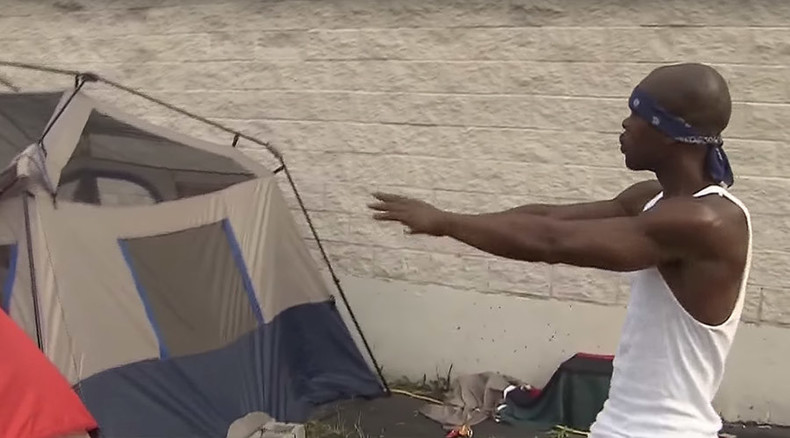 Recent tensions have died down in Ferguson, Missouri, but some activists have been living in tents on a street corner for more than a year to get their message out about police brutality and justice.
"All of my organization members and some of the supporters that sleep in the tent with us, this is where we sleep," Meldon Moffit, a Ferguson resident and a member of the Lost Voices group, told RT as he pointed towards a group of tents.
Lost Voices is an organization that is part of the Black Lives Matter movement, with a mission to pressure state, local and federal government to stop police brutality.
READ MORE: Quiet night in Ferguson could lead to lifting state of emergency - county officials
According to the group's website, its goal is also "to be a voice that represents youth and all those who are affected by Police Brutality; being sure our collective voice is heard."
Despite sleeping in tents for over a year, Moffit stressed that the activists are voluntarily camping out to demand justice.
"None of us are homeless. We all have homes," Moffit said. "We're going to get some type of justice if we stay out here demandingly, and that's where we came up with the tent idea."
Lost Voices continued pushing their message of peace and justice during the one-year anniversary of the death of Michael Brown, an unarmed black man who was killed by a white police officer on August 9, 2014. Renewed demonstrations during the anniversary led to a state of emergency being declared in Ferguson by St. Louis County authorities. More than 100 protestors were arrested during a day of civil disobedience on Monday, including some who blocked an interstate highway.
Moffit told RT that he believes some kind of justice will eventually be served, even if it takes years. He said his group continues to attract participants.
READ MORE: Ferguson police chief hit with claims of fraud, abuse
"We're just out here for peace, and trying to get these officers to respect these people who are living their lives and trying to do the right thing. Every person that you pull over is not a drug dealer, is not a gang member, is not out here to cause harm," he said.
"Just because they don't have a driver's license doesn't deserve to lose their life. Just because a person's on the street corner selling cigarettes, maybe he's doing that to make ends meet so he can pay his utilities or take care of his situation at home with his kids. That's the reason why we're out here on these street corners."
You can share this story on social media: