What's the hold up? No decision on Keystone XL nearly 7 years later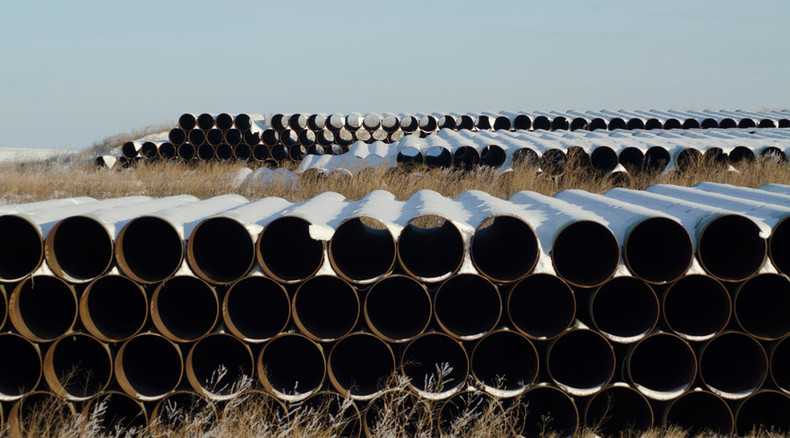 The Obama administration still has yet to make a decision on whether to approve the construction of the controversial Keystone XL oil pipeline, and a new analysis shows the government's review is taking five times longer than usual.
On average, the US government has needed 478 days to decide whether to grant pipeline permits for projects that crossed state lines, or about a year and a half, according to a report by the Associated Press.
However, that expedited process has done little to speed up the State Department's internal review of Keystone, which is still ongoing some six and a half years after the TransCanada Corporation first applied for a permit.
READ MORE: President Obama vetoes Keystone pipeline bill
The 6.5-year wait is more than double the amount of time it took Obama's administration to approve the Vantage Pipeline Project. That pipeline was approved in less than three years yet still needed negotiations to be conducted with Native American tribes whose historic sites could have been affected.
Orignally, the speedier federal approval process was set up by a 2004 executive order under President George W. Bush.
"It was seen as the most routine, boring thing in the world," Robert McNally, Bush's senior energy adviser during his presidency, told the AP about granting pipeline permits.
Despite the extremely lengthy wait, the State Department has declined to offer any details about Keystone's status.
"This is under a review process at the State Department. That particular process is a process that predates this administration, so I'm not going to have any update for you from here," White House spokesman Eric Schultz said recently, according to AP.
So far, Schultz has only been willing to say that a decision will be made sometime before President Obama leaves office in 2017.
READ MORE: Passing Keystone pipeline 'an act of war,' Sioux tribe president tells RT (VIDEO)
In the past, President Obama has said that he'd only approve of Keystone if it does not contribute significantly to greenhouse gas emissions.
It's also unclear if any government agencies, which are allowed to offer input and object to a permit's approval, have contributed to the delay of the construction.
In February of this year, the Environmental Protection Agency did send a letter to the State Department saying the pipeline "represents a significant increase in greenhouse gas emissions."
Falling oil prices could also "result in increased oil sands production," leading to more air pollution, the department said.
Of course, one reason why Keystone is still awaiting its fate is the controversial nature of the pipeline, which would carry oil from Canada through Montana and South Dakota to Nebraska. There, it would connect with existing pipelines to carry more than 800,000 barrels of crude oil a day to refineries along the Texas Gulf Coast – a distance of 1,179 miles.
Supporters have boasted that the project would create thousands of jobs and provide a shot in the arm to the US economy.
Opponents, however, have blasted it as an environmental risk and fossil fuel promoter, while Native American tribes in Nebraska have battled it on the grounds that any leak could contaminate the large Ogallala Aquifer. The number of long-term jobs it would create, about 50, has also caused some to wonder if the project is worth the $8 billion cost.